Last Updated on April 28, 2021 by
A few days ago, a local Jacksonville photographer posted a link to her website on a Facebook photography group of which I'm a member. She asked for everyone's feedback to her new site's updates. As a website optimization guru, internet marketer, and all around tech enthusiast, I couldn't help myself from taking a peek.
What I found was a home page with a photo slider but no words other than the menu links. Digging further into the site, I found that each of the "service pages" were just photo galleries. So, basically there were a lot of pictures, albeit great pictures, but almost no actual copy to be found. I think I counted maybe 150 words combined throughout the entire site.
This prompted a rather lengthy conversation, some free website optimization advice, as well as some general stuff about the psychology of sales. This all too familiar conversation which I find myself having almost weekly inspired me to finally turn it into a blog. So here goes:
How to Build a Website That Sells
Assessing the Goals of a Website – Most Desired Action
Every website has a point to it right? They should, even if the point itself is to seem pointless.
But, the problem that most people creating websites run into and cause a multitude of other issues is that they don't clearly define and plan their goals. We are all very well aware that in this digital age not having a website is just pure stupidity. As a business owner, I can attest to the fact that, much like the dinosaurs, traditional marketing campaigns like TV and billboards are dead – metaphorically speaking of course.  Having a website to market your business locally is absolutely critical. So while this person I spoke with tried to create a website with the intent of marketing her business, it wasn't even in the same ballpark as effective.
Setting up Business Goals & Developing a Business Plan
This blog isn't going to dig into how to create a business plan. (suffice it to say that you SHOULD have one.) There's a quote I heard somewhere once (though I can't remember where) that said something to this effect:
If you don't set goals, then you're sure not to reach them.   -Unknown
Basically, set goals and create a plan to get there. Create long term goals, then shorter goals to get you to achieve those long term ones. If you don't already have a goal and plan, that needs to be your first crucial step.
Create a Marketing Plan
Once you have your goals and business planning down, the next logical step is to create your marketing plan. This plan needs to get you the business and customers you want in order to achieve those goals you've just set. One side note here, don't just focus on getting revenue or getting "any job" you can. Focus on getting the right job from the right client. This will not only ensure your continued business success, but also your happiness. Enough said there for now.
How to Write and Design Webpages to Meet Your Goals
As I just mentioned, if you own a business, it's practically a necessity for you own a website, but how to go about creating a website that actually serves your business needs is the real question. The fact of the matter is almost all websites are not nearly as effective as they could be for the business goals.
Target Your Ideal Market & Set Online Goals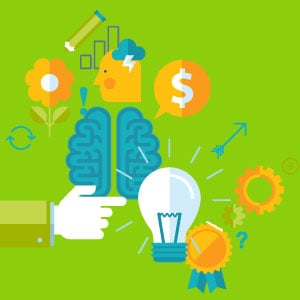 If you've developed your business plan correctly, you should have already identified who your ideal client is. This needs to be specific.
Once you know this exact market, you need to identify a "pain point". This is essentially figuring out what this market needs or what could be improved to make their life better. Without knowing this first, nothing else you do in marketing really matters.
This is the basis of all sales and marketing. Without a need, people don't buy anything. So, with your marketing, you have to show them why they need your product or service.
Once you have that done, then you need to set up online goals. This can be filling out a request a quote or consultation form, buying a product, or calling you directly. No matter what your goals are though, you should always ensure that you have some sort of goal tracking setup. Google Analytics provide these means for free and for phone numbers you can use a call tracking system like Call Rail.
With the photographer I mentioned earlier, I think this was one of her biggest problems. The website simply didn't look to be achieving any real goals because most likely, none were set.
Why a Value Proposition (or Unique Selling Proposition) is Necessary
The next step is a really golden one and can make or break your business. It's called either a value proposition or a unique selling proposition. (also check out this other blog on value propositions with examples of a couple good ones)
The reason this is so important is this single statement defines what it is you do, what's unique about it (hopefully), and who it's for.
We all know who Apple is. They are literally the highest grossing business in world history. They make the iPhone, iPad, Macs, and loads more. Now, regardless of whether you are a Mac or a PC person, you can't argue that Apple knows how to demand it's customers attention and drive their desire to buy…and keep buying.
Think of this: When Apple came out with the iPod in 2001, there were already loads of MP3 players out on the market from huge companies like Sony, Toshiba, and more. So, why then, did a late-to-market product, that cost 2-3 times more than their competitors, do so well?
This is all about the value proposition and they are masters at it. While other companies were marketing MP3 players, Apple instead launched "10,000 songs in your pocket".
While technically all of the MP3 players at that time had this capability, Apple was the only company to stop selling the physical product and instead sell the experience. This single action catapulted the then underdog in the computer world to a global leader and trendsetting company that it's become.
Writing Effective Website Copy That Commands Action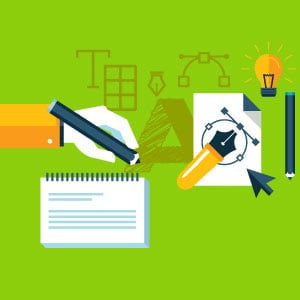 Now that you have a defined market and a kicking USP, the next step is to write copy that engages the user, and most importantly, solves their problem. The photographer I mentioned didn't have enough copy to do anything. Not only is website copy important in selling your products and services, but copywriting is a critical SEO ranking factor as well. That means without words on your page, you won't rank in search engines and you won't sell anything. Since I'm pretty sure that's not what you had in mind when you set your online goals, let's go over a few tips to keep you straight.
#1 – Write for the user and focus on value statements. No one cares about listening to a list of your skills. That's like asking a stranger to sit through your family vacation slides. They're not going to do it and they don't care. It's boring and has nothing to do with THEM. So, instead of telling everyone about how many years of experience you have, tell them what benefits they get from your years of experience. Instead of listing out all of your products features, list the benefits the users get or what those features do for the user. Basically, stop thinking in me me me terms and focus on the you you you.
#2- You should study a little bit about the psychological aspects of the buying/selling process. This is important because people, myself included, always buy emotionally, and justify that purchase afterwards logically. This basically means that in order to sell them something, you have to understand what emotion you're trying to appeal to, what emotions happen in what stage, and preemptively write for that. If you can do this, then you're going to have an awesome site. If not, you should consider hiring someone else to do this for you.
Designing for Actions – The AIDA Concept
Last on the agenda, but definitely not least, is DESIGN. If you've followed so far, we've created business goals, turned those into online goals (at least in part), defined an ideal market, wrote a kick-butt USP, and written some great copy that will help attract and persuade your visitors into customers. Now, the last element is the design.
In the website design world, there are two main concepts you need to know in order to learn how to build a website that sells: Conversion Centric Design (CCD) & User Centric Design (UCD). Basically, in CCD the principal is that you focus single desired actions such as a purchase form or request a consultation form. This design concept is normally employed only in landing pages. UCD, on the other hand, is all about designing for the user experience as in which pages are available in a menu, or how many steps in an e-commerce checkout, etc.
My personal favorite is Conversion Centric Design. While UCD is required in most standard business websites, I try to employ as many CCD concepts as possible when laying out a page. The reason is that focusing on conversions typically leads to more conversions. Makes sense right?
So, if you've created the online goals as before, then you should be creating pages on your site that help a user with that goal in mind and each page should focus on a single solitary goal called the most desired action.
Within the realm of Conversion Centric Design, there's a layout practice called AIDA. That is my favorite because it not only works on single action landing pages, but it also works incredibly well on standard business websites. AIDA stands for Attention, Interest, Desire, Action. Check out this example of our own home page: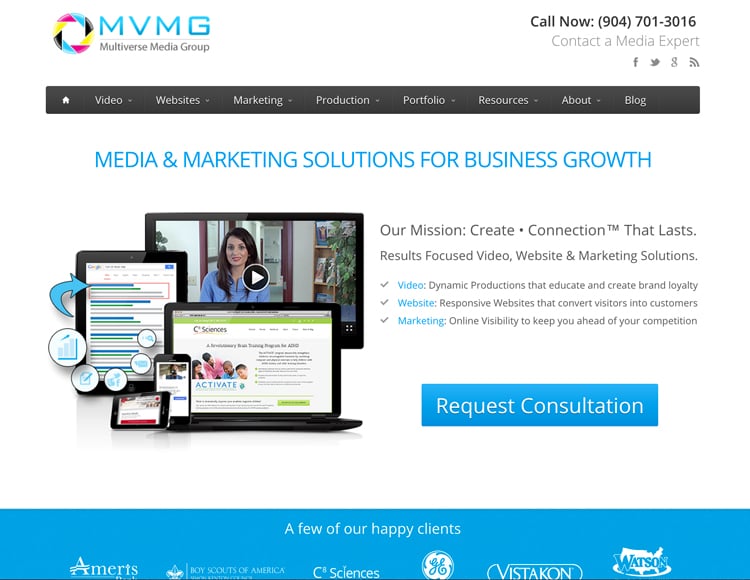 Attention – This section is all about an attention grabbing headline and/or image. The point of this is simple – You have about 2 seconds or less to capture someone's attention and without it, the rest doesn't even matter. This headline should be concise, easy to understand, and should not be a slogan. Think value statement or USP
Interest – This is normally a slightly longer sub headline and or some bullets that further clarifies the headline. These should be also be clear and to the point. Again, keep in mind the value statement stuff. Don't list features, list value!
Desire – You need to create desire to in order to close a sale and that's what this step is all about. This section is a answering the "pain points" of your ideal market.
Action – This is the goal section where you have an ask of some sort. So, an opt-in form, request to call, purchase, etc are all examples of a CTA or call to action. One critical note here is avoid things like "signup", "purchase", etc. Ensure the CTA is in line with the offer.
How to Build a Website that Sells – A Wrap Up
So, this blog got a little longer than I initially planned, but that's only because I do truly love this stuff. Your main take aways here should be to plan, set goals, then write and design with a focus on those goals. Follow that strategy and you'll know how to build a website that sells.
Please feel free to ask questions below or browse our other blogs for some more great tips on building your business online. Thanks!