Designs That Impress. Websites That Convert.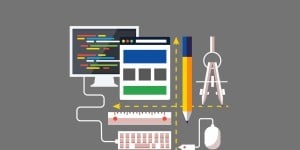 Every website needs to be mobile responsive and optimized for SEO, but our custom website design process goes far beyond that. We make sure your unique needs are incorporated into your website design and that your website draws your viewers in.
Experienced Designers & Developers
We use your business model, industry, target market, budget and stylistic preferences to design a website tailored specifically for you. We draw from years of experience when approaching unique needs and can help you figure out what type of website design is right for your brand and target audience to help you intrigue, inform, and most importantly — convert!
For some websites that means creating eye-catching designs complete with full-width media and sliding background images, also known as a Parallax effect. This can be one part of many that helps give a modern feel and look to your website — evoking a sense of luxury and quality.
For businesses that cater to an older demographic a more traditional custom website design tends to be better at keeping visitors in their comfort zone. It's all about making the decisions that are right for your brand and your clientele.
Conversion Centered Design
Our teams use a design approach known as Conversion Centered Design (CCD), a process focused on creating a user experience that drives home one specific conversion-minded goal for each page. CCD utilizes seven psychological principles that facilitate the creation of these goal-driven pages; they include attention, coupling, context, congruence, clarity, credibility, and continuance.
Websites are valuable marketing assets. They should be beautiful and efficient, but at the end of the day their goal is the same — converting your audience into leads! Our design team works together with our content marketing team to ensure you get a sleek, elegant design streamlined to create conversions.
In 2011, HubSpot released a survey where they found that 76% of users said that the most important factor in the design of a website was that "The website makes it easy for me to find what I want." Only 10% of users said, "beautiful appearance" was the most important factor.

Custom Website Design From American Artists & Developers
The team at Multiverse is a melting pot of different cultures and nationalities, with a touch of cultures from several different continents. The one thing that brings us all together is our love for digital marketing and helping our clients achieve success.
While we may have a conglomerate of different heritages, we are located right here in the USA, nestled in Jacksonville, Fl. As American designers we pride ourselves in staying at the front of the pack and providing cleaner, sleeker and more intuitive designs. We stay on top of trends in both the public and design spheres, but keep in mind just because something is trending doesn't mean it is a good idea. However, if there is something that has caught your eye we would be happy to talk about it with you.