Understanding the Power of Great Copy
Your secret weapon to grab attention and convert customers.
Grab the attention of your viewers. It's important.
A picture may be worth a thousand words to a human, but to Google it is only worth the words in the title and alt text. For now.
Until then the words or 'copy' on your website do the heavy lifting. Your copy serves four functions:
Utilizing optimized SEO practices to get viewers to your site
Keeping them there (being interesting)
Getting your message across and building trust
Converting your viewers into clients
Your website copywriting will work with your design, photos and other media to get your message across and keep them on your website. It will work with other factors on the back end of your website to determine SEO.
Your words are important. Make sure they're the right ones.
Headlines Establish Value
Sub-headlines Enforce Value
Paragraph Copy Validates Value
Understanding Your Audience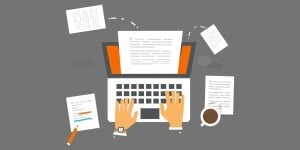 The first step in writing is identifying your target market. That will help determine choices about writing styles, word choice, and tone of voice in your content. Understanding your audience and tailoring your content towards them will help them enter your conversion funnel and can lead to more sales.
Is Your Company Voice More like Dollar Shave Club or Lincoln Motor Company?
Our content marketing team creates a "persona" for your brand as they develop a personality and writing style for your business. Nearly every successful brand has a persona whether you recognize it or not. Companies like GoDaddy, MTV, Monster Energy Drinks, and Dollar Shave Club use slang terms, mild profanities and millennial humor to reach out to a younger crowd.
On the opposite end of the spectrum companies like Allstate and Lincoln Motor Company use a more diverse choice of words and a softer, often female, tone of voice to capture the attention of middle aged professionals and seniors. This brand persona helps your business connect and communicate with your target market. It gains their trust, which makes selling them your products and services much simpler!
Keyword Driven Research
We understand the importance of strategic keyword placement and fully utilize it in our website copy. After performing extensive keyword research our writers ensure the implementation of the chosen keywords throughout the page titles, meta descriptions, content, alt text, and headlines of each page. The application of this knowledge plays a crucial role in the success of Search Engine Optimization factors on your website.
There are many excellent writers in the world, but there are far fewer who understand how to write well for both people and SEO. We keep on top of all of the latest website development trends so we can incorporate them into your website if it is a good fit for your brand.
Headlines are instrumental in determining the success of an article/blog piece. Upworthy found that their traffic can vary by as much as 500% based on changing the headline. It was the headline, not the content itself, that made content go viral.
– Wired Magazine
Conversion Focused Value Propositions
Forget the features of your product or service and start thinking about benefits to your customer.
Sales are one of the most complex and variable and difficult cogs in the gears that run a business. Before selling anything it is necessary to build familiarity and trust. Then you have to show them why they should care. How much is it going to help them or their business and what will that look like to them?
For example, do you want:
A well-designed and attractive website that is going to rank well in search engines and convert your viewers into customers
OR
A website with a well-designed UX/UI framework, professional website copywriting, and thorough optimization for SEO throughout the frontend and backend.
This is known as a Value Proposition. In your Value Proposition you clearly define what you are offering, how it will benefit the consumer and why you are a better option than your competitors. In order to put yours together we gather detailed information about you, your company and your products and services to create your unique Value Proposition. Then we do the same research on your competitors and tweak your value proposition to highlight your competitive advantages.