Last Updated on October 24, 2017 by
The Web Management Dilemma – The Best CMS 2013
When we first started developing websites, many years ago, we were only working on one website: our company's. We did it the old fashioned way- coding almost all of by hand in Dreamweaver. While dreamweaver is still a fantastic tool, today's web market demands a little bit more. Google loves fresh content and on a regular basis. Once you realize that in order to stay competitive and you must produce lots of new content, a program like Dreamweaver quickly hits a brick wall.  The biggest problem is that it's a static website tool, and can only realistically be updated by one person at a time. If you are like us, and need to produce a lot of content and also need a dynamic website, you seriously need to consider a CMS. So what are the best CMS 2013 choices?
Enter The CMS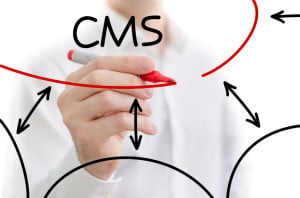 A CMS, which stands for Content Management System, is designed from the ground up for multiple people to be able to access and edit a site at the same time. They do this by deploying website software (PHP and others) to make a better and stronger framework, providing an easy to use and intuitive user-interface.
Which CMS is Right for Me?
If you've decided that a CMS is the right choice, you still have to consider which one…and there are a ton. The three biggest, and the only ones we'll discuss here, are Wordpress, Joomla, and Drupal.
Drupal
Drupal is considered by many to be the most powerful and fully capable CMS. Because of it's immense power though, it is the hardest to operate out of the three. If you are a newbie at web, just move on. If you are very code savvy, and need a workhorse site, then this might be the tool for you.
Joomla
Joomla is pretty much the middle ground between feature sets, and ease of use. It's moderately easy to use, has a good community support, but can still develop some serious backend functionality when you need it to.
Wordpress
Wordpress is by far, the most popular CMS out there. It is incredibly easy to use, even for a novice. Yet, it can still handle some pretty intricate website functionality when you need it to. Did you know that word press powers about 25% of the web today? And this is for a good reason. It's got great code, it's stable, and it's incredibly user friendly.
**Disclaimer, when doing research of Wordpress, you'll notice Wordpress.com or Wordpress self hosted. I'm going to be talking about self hosted here as Wordpress.com doesn't allow you to customize the code and you end up with the dreaded www.mydoman.wordpress.com, which no-one likes. When you do Wordpress self install, you can do whatever you want, provided you have the knowledge to do it.
Why We Use Wordpress
Wordpress is our CMS of choice. Most of our website clients want to have limited to moderate control over their content. Drupal would scare most novices off, and Joomla would still require a decent amount of training for a non-website person. Typically, after we're done building a site, we can sit down with our client (or over the phone) and walk them through the basics in 30 minutes to an hour. This is huge as the long term cost savings that this process brings our clients is simply amazing. What's more, the functionality of Wordpress allows us to use a Wordpress multisite for franchises or businesses with multiple locations, which is much simpler and easier to manage for clients than other similar options!
More Reasons to Love Wordpress
The biggest reason we love Wordpress is the community and the countless forums with knowledgeable people willing to help you out.
It has the best and easiest CMS platform we've ever used. Remember the google loves content? Yeah, well, you should have a blog.
There is also a huge amount of free and paid plugins that can extent the functionality of Wordpress way beyond what it can do out of the box.
Here's a few of out favorite Wordpress Plugins:
Gravity Forms (paid) – simply the best form builder we've ever used. It's easy enough to use, but can do some seriously awesome conditional logic, pass PHP variables through to other forms and more.
Woo Commerce (free) – One of the best shopping cart systems for Wordpress available. If you need to, there are paid extensions that can add even more functionality to your cart.
Appointments + (paid) – allows you to have an appointment calendar on your site that users can schedule their own appointments through. You can set working hours, days off, and different items with prices. It also integrates with PayPal so people can pay you for your appointment. It's simply amazing.
WP Engine (paid) – While technically not a plugin, it's worth mentioning here. WP Engine is, simply put, the best and fastest manage hosting for wordpress available. With built in caching and CDN features, your site will be fast and secure.
And so much more…
There are so many more plugins for things like membership sites, booking calendars, social integration, live chat, and html 5 sliders.
Simply put, Wordpress allows us to develop great websites that have many robust features, all while keeping the budget realistic. Being able to speed up the technical side of the web development means that we can focus on the stuff that really matter: Content and Conversions!
Got questions? We Love to Chat.
Leave your comments, give us a call, or check out our website design services for more information.