Last Updated on January 4, 2023 by James Castro
Blogging is crucial for improving SEO and growing organic traffic to a website. Unfortunately, the blogging process can be frustrating and ineffective for many who try.
Undoubtedly, bloggers who want more search traffic are Blogging for Google in a sense – blogging in hopes that Google will "like" their content and shoot them to the top of search results. But we are here to tell you to stop doing that.
Google likely isn't buying your product or service, so why are you so focused on writing to serve them? Serve your customers – write for them. Stop playing into SEO hacks and cheats, and stop Petelifying all your articles and work. Bots don't pay your bills. Google probably doesn't, either.
Look, we've done it. We gained, we lost, and we learned. We still love our SEO, but that's not because of the SEO itself; it's because of the Leads and Sales that come from the SEO. And that means you can't blog for Google Search Rank Position, but it does mean you have to blog for your customers first.
Consider your customers before you consider keyword research, search volume, keyword difficulty, competitor rank position, content gaps, and all the rest of it.
Understand Your Customers
Your customers are online looking for a product or a service, and regardless of if you're a local business looking to increase your SEO, or a big corporation, you must understand your customers' needs.
Sure, you do.
Right, we know if you're here, you understand their needs, and you understand them because they probably ask you or your team 10,000 questions, pour out all their problems, and see which ones you can solve. You know what problems they have and solutions you can provide to solve those problems, but instead of just writing to answer their questions, solve their problems, and create a genuinely useful blog, are you turning to SEO tools or SEO providers/content machines to help you cheat the system?
That is what is wrong with 90% of blogs today (and 90% of the blogs we previously wrote, TBH).
What should you write about?
If you get phone calls or emails, and potential customers or current clients ask you a question, consider turning that into a blog.

If your sales team gets endless questions about pricing, the scope of work, process, or deliverables – consider turning that into a blog.

If you know an answer to something – how to fix something, do something, solve something – consider turning that into a blog.

THEN… Then, you have real content. Content that's useful is content that demonstrates your expertise.
That is content that is worth reading and content that is worth ranking.
Deserving of rank.
At that point, you can and should consider how you might make your blog content more accessible to Google. So that's the distinction here. Don't blog for Google, Blog for your customers, and then make accommodations for Google, so they don't have to work to understand your information compared to the rest of the information presented in the world and shared online.
In this blog, we are going to look at a few rules for blogging. We will look at important factors that can greatly improve your chances of ranking your business blogs in Google.
Revising your Blog for Google (and other search engines)
While blogging is, of course, a huge part of building organic traffic, there are many things to consider when blogging and overall in terms of SEO. So once you have a great question or solution you know your customers will benefit from having an answer to, you can start the process of doing some keyword research and see how you might use SEO tools and strategies to increase the number of people that find your blog, who genuinely need your help.
NOTE: In this blog, we'll also look at factors outside your blog that can greatly improve your rank in the SERPs.
But first, let's look at some important info when writing an awesome blog (after you have useful content to share)
Start with the Keyword Phrase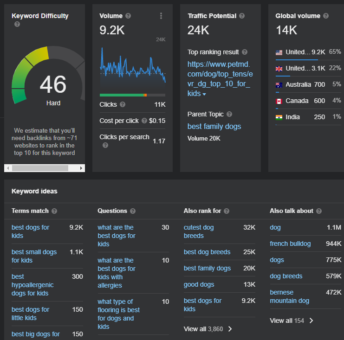 In my experience, sometimes organizations looking to grow traffic through their blogging efforts often fail because of their blogging process.
Many times, bloggers will spend hours on end writing about something they feel will get them a good spot on Google. Every blog should start with your customer in mind and immediately shift into keyword research and analysis.
Because without this step, you're simply shooting at a target you're not sure exists.
Customers search for the same answer in 100 different ways, depending on factors beyond our understanding. So you need to take the time to consider not just how you would ask a question or what you would search for but what most people or some people are searching for online. It's the considerate way to blog.
When you research keyword phrases, you can quickly determine which phrases are worth writing about. In other words, you can learn what phrases people search for.
Keyword research allows you to determine the monthly search volume and ranking difficulty for a potential keyword phrase. Additionally, using tools like AHREFs, UberrSuggest, and Semrush, allow content developers and bloggers to learn about their competition.
With any of the SEO tools, bloggers can learn in minutes if the keyword they wish to write about is even worth the time.
For example, if you find a keyword phrase that has a monthly search volume of 5,000, and a keyword difficulty (KD) score of 80, meaning, the keyword phrase is difficult to rank for, is it worth the time and effort?
If in your analysis, you find that National Geographic, Time magazine, and Newsweek are your competitors, do you think you can compete? It just depends. If you are a small business or a new website, the chances are slim.
Our suggestion, in most cases, is to focus on writing for keyword phrases that have a minimum monthly search volume of 1,000 and a keyword difficulty of 20 or less.
Build an Outline
Writing can be difficult for anyone if they don't know where to start, the topics to cover, and how to wrap it all up.
After you do your keyword research and have found your keyword phrase, the next step is to build out a blog outline. This will help you to establish a logical flow of the topics and sections of your blog.
In building your outline, you will want to assume that each section title of the outline is a header tag. These will mostly be H2 tags supported by H3 tags. Although, just recently, Google stated that the types of headers you use don't matter that much.
But, I wouldn't dare try to write a Google-friendly blog without defining a blog structure with headers, because the user experience is also a Google ranking factor. And it's not going to be fun for the end-user to skim-read a huge wall of text.
Speaking of huge walls of text and user experience, it's also suggested that you break up your blog into smaller paragraphs.
If you ever read the blogs of SEO gurus like Neil Patel and Brian Dean, you'll notice that the text in their blogs is broken up into short paragraphs.
This makes text easier to read, especially on mobile devices.
Use Only Great and Original Content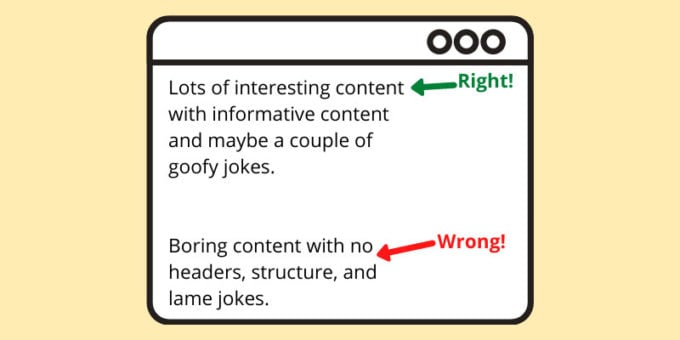 So this one is kind of a no-brainer. Don't just blog for the sake of blogging, make sure you write great content that is original, informative, and useful.
When possible, quote statistics, and studies.
Semrush tells us that there are over 500 million blogs out of 1.7 billion websites. That's a lot of blogs! (See what I did there?)
Also, every single month, over 409 million people on the web view more than 20 billion web pages. Those numbers are pretty mind-boggling.
If you want to be noticed, always work to write great content.
Use Pics and Videos
Additionally, use pictures and videos throughout your blogs. And when possible, use infographics. Infographics that provide in-depth information often increase the likelihood of someone sharing your blog.
Including pictures, videos, and infographics throughout your blog help break up content, but also, make blogs more interesting.
Note, with any picture you add to your blog, always remember to make use of ALT tags. Don't create spammy ALT tags, but when possible, use your keyword phrase and its synonyms with each picture.
Naming Conventions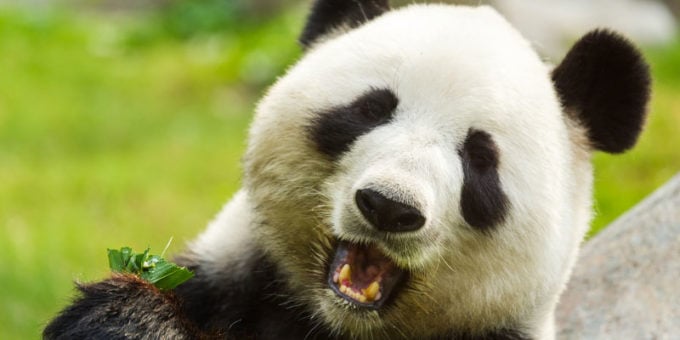 I've found, through my experience in blogging, that naming conventions are important for SEO.
In short, based on the keyword phrase for any blog I write, I always make sure that the pictures I use are named those keywords or variations of that keyword phrase.
Also, when blogging, you want to ensure that your URLs are short, precise, and incorporate your keyword phrase.
For example, yoursite.com/what-are-the-best-dogs-for-small-kids-ages-3-to-12 probably isn't a great choice for a URL. But, yoursite.com/best-dogs-for-kids will work.
Site Structure – Core Web Vitals.
Assuming you write the most beautiful 8,000-word blog ever, there are still other things to take into consideration when writing blogs for Google that will rank.
Always make sure that the site structure of your site is solid. I won't go into that much detail about this topic in this blog, but Google looks at an entire site in terms of SEO. It doesn't just look at one awesome blog.
So make sure that your site is structured in a logical format. Make sure that your menus are logical, and that the user experience is solid as user experience is a major ranking factor for Google.
Additionally, each blog that you write should support the topic legs of your site. In other words, if you have a dog site, and one of the topics or categories is "family dogs," you will want to write blogs that support this topic leg to build its SEO.
Site Speed – Core Web Vitals.
Google also looks at site speed as an SEO ranking factor even more today than in 2021. If you care about rank position today, you need to set the pen down for a minute and check out your sites core web vitals. If your visitors hates your site because of how poorly it performs – you can't fix that with great content alone.
If a site takes forever to load or loads slowly, this can hurt a website's SEO. So always keep tabs on how your website is performing in terms of speed. Are unnecessary scripts or large photos impacting your site speed?
Mobile-Friendliness – Core Web Vitals (again).
More and more people are using mobile phones and mobile devices to surf the web. This isn't exactly new news.
Having a mobile-friendly website isn't just nice to have, it's a must-have if you want to compete with other Google bloggers.
Backlinks are still a thing.
Earlier, I talked about keyword analysis and competition. Knowing your competitors for a keyword phrase is a huge piece of keyword analysis.
You'll often notice that a lot of the big players and top-ranking sites for many keyword phrases, especially competitive phrases, also have a huge backlink profile.
As you might have guessed, backlinks are a large part of SEO. Google looks at backlink profiles of websites. So if you want to rank well in the Google search results, don't just write great original content, develop a backlink strategy to support your site and its blogs.
Publish Fresh Content and Update Old Blogs
Building a website's SEO is an ongoing process. To build a site that ranks well in Google for specific keyword terms, organizations should develop a content calendar and publish blogs regularly.
Also, organizations should continually update old blogs and work to continually improve the SEO of their websites.
To use a very cliche and unoriginal phrase, SEO is a marathon and not a sprint (hope Google doesn't ding me for this one).
Blogging for Google: A Recap
Blogging is imperative for building organic traffic to a website. But, there are many rules to follow when blogging and with SEO overall.
Before you write the first word to any blog, you should have analyzed your keyword phrase and your competitors.
Publishing great blogs is a step in the right direction for building organic traffic and ranking well in Google, but there are also other important ranking factors to take into account.
A solid site structure, website speed, backlinks, and other ranking factors should always be included as part of the plan to rank better organically in Google.
If you are looking to improve your SEO and rank better in search, let's chat. We will tell funny jokes and help you develop a content strategy to get you noticed on Google.