Last Updated on January 3, 2022 by James Castro
In this blog, we'll take an in-depth look at backlinks for SEO. We'll look at the different types of backlinks, strategies, and how to acquire backlinks that can really boost your SEO. We'll also answer many common questions about link building.
The Old Days of Using Backlinks for SEO
There was a time when some webmasters simply set out to acquire as many backlinks as possible.
It didn't matter where they came from, or where they were placed. And, at the time, for many digital marketers, this type of link building helped boost page rank (PR). I was very much into affiliate marketing at this time, and I can tell you, even the garbage links worked.
But today, lots of things have changed – like my rankings on those sites I had with garbage backlinks. Also, you can't just go out and buy that footer link on Fiverr and expect incredible results.
What are Backlinks?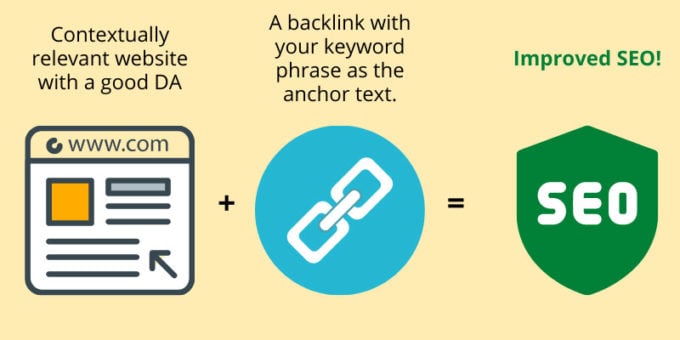 Backlinks are links from one website to another website. In general, a single link from one website to another website is most beneficial for the site that is being linked to.
In other words, the old-school "link exchange" doesn't work so great for sites looking to use backlinks to boost their SEO.
For example, if Petco's website links out to Bob's Cool Dogs website from their blog, well not only does Bob have cool dogs, but now Bob has a very cool backlink from a great website – a contextually relevant one-way link from a website with high domain authority (DA). More on these things in a minute.
There's a lot of different types of terminology for backlinks and links in general.
There are outbound links, inbound links, one-way links, internal links, nofollow links, dofollow links… toxic links.
It can get confusing.
But it's like this. Outbound links are links from a website to another website. If your website gets an outbound link from another site, this is great for your website's SEO.
Outbound links are different than inbound likes. Inbound links are internal links. In other words, websites often link to other pages and blogs on their website.
So what are dofollow links?
Dofollow links instruct search bots to "follow" a link. This passes on "link juice" and is a good thing for the website being linked to.
Conversely, nofollow links mean the direct opposite. However, nofollow links aren't detrimental to a website's SEO.
Google and other search engines expect to see a healthy mixture of both dofollow and nofollow links. But, of course, those dofollow one-way links are always the best for building SEO.
Since this blog's purpose is to focus on backlinks that will help build a website's SEO, it will only focus on one-way links or outbound links to a website.
Do Backlinks Really Work?
Backlinks almost always work for their intended purpose – linking from one website to another website. However, if the goal is to increase SEO with a good backlink strategy, then the answer is also yes, backlinks work to increase SERP.
Backlinks can have a tremendous impact on SEO when they are built following a few rules.
Here's what SEO guru Neil Patel has to say about backlinks:
"High-quality backlinks are good for an obvious reason. They are… well, they're high-quality. That means they are intrinsically beneficial for domain authority and SEO rankings.

With these backlinks, you don't need to worry about hurting your rankings by unintentionally building a relationship with a spam website. They are reliable, trustworthy, and foolproof."
Quality backlinks basically serve as an endorsement of a website's content. In other words, a backlink tells Google, "this information is good stuff." Well, I mean, the communication is probably not as down-to-earth as that, but you get the point.
Google sees backlinks as validation of the content that is being linked to. Backlinks are votes for the content of a site and signal authority and expertise.

Believe it or not, though, some people believe you don't need backlinks for SEO or to rank well in the SERPs. And, in some cases, I've seen that certain web pages and blogs can index very well without backlinks. However, this is rare, especially in competitive markets.
Usually when a blog or web page indexes high in Google without backlinks, it's because they are ranking for a very niche keyword phrase with lower competition. Or, keyword phrases that have a low keyword difficulty (KD). In other words, keyword phrases are easier to rank for in the SERP.
Many crucial factors should be considered when building backlinks.
Below, we'll look at a few key factors in building backlinks for SEO.
The Importance of Contextually Relevant Links
If you have a blog or landing page, and you want to boost its SEO, you need to seek out links from contextually relevant websites and blogs.

In other words, if Bob's Cool Dogs acquired a backlink from Nancy's Cool Cookies, this wouldn't exactly be good for the SEO of Bob's website. This is because Nancy's website is about cookies.

You see, Google values backlinks to sites that are contextually relevant to the content and topics of the websites they are linking from. That's why a Petco link to Bob's website would be so valuable.
Does the Placement of Backlinks on a Website Matter?
Yes! the placement of backlinks does matter. Since sometimes links in footers are devalued compared to links at the top of the page within the center of some valuable content.
Again, there was a time, years ago, when backlinks were backlinks (generally speaking). But, as usual, Google caught up with the Tom Foolery associated with both link placements and websites providing one-way links.
Is a backlink placed in the footer of a website as good as any other placement?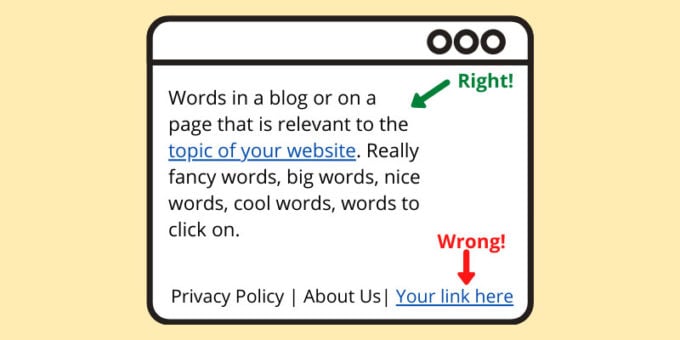 Today, links in footers are often devalued.
So, assuming all of the essential boxes are checked on the rules of backlinks, placement is another factor that can make all of the difference.
Ideally, when placing backlinks for SEO, linking from the center of page content give better link juice. But like anything else, focus on the quality of your content and link to what is useful to your audience.
What Should the Anchor Text be for a Backlink?
Anchor text is very important when establishing a backlink from another website.
Ideally, you want the anchor text of any backlink to be the keyword phrase of the page or blog that is being linked to, for example, when linking to this page the anchor text should be written as "Backlinks for SEO" (please and thank you).
However, using variations of keyword phrases when building backlinks is a good idea. These backlinks seem natural and non-spammy. Plus, they give your web page the chance to rank for other different keyword variations.
For example, a finance company might place a link for a blog about "payment platforms," but future links for the same page might include anchor text using keyword phrases like, "payment systems," "payment platforms for small businesses," "payment gateways," and others.
How Does Domain Authority Affect a Backlink?
Domain authority is rated on a scale of 1 to 100, with 1 being low and 100 being off the charts good.
Domain authority matters because sites with high DAs are respected by Google and seen as authoritative sites – experts in their space.
So, acquiring backlinks from websites with a high domain authority can drastically increase a website's SEO.
In my experience with building backlinks for SEO, depending on the keyword phrase, sometimes acquiring one or two backlinks from an authoritative website can mean the difference in being on page 15 and page 1 in Google's SERPs. Backlink strategy isn't really a game of how many links can you get.

"Or there could be one really good link from one website out there that is, for us, a really important sign that we should treat this website as something that is relevant because it has that one link. I don't know, maybe from like a big news site's home page, for example. So the total number essentially is completely irrelevant," John Mueller of Google recently said during a Google Hangout.
Bottom line, always try and acquire contextually relevant backlinks on sites with a high domain authority. Sometimes the right DA can depend on the keyword phrase or topic, but generally speaking, I always hope to acquire backlinks on sites with a DA of at least 50.
Do Toxic Backlinks Hurt SEO?
Eh, John Mueller also stated that toxic backlinks (links from PBNs, etc.) are simply "discounted." However, he also says these links are against Google's guidelines.
So, don't get links on shady sites or PBN's. This could lead to trouble.
It is important to note however, most websites will naturally have a mix of good links, bad links, and toxic links. A website isn't expected to have only backlinks with DAs of 100.
How Do You Get Good Backlinks?
There are several ways to get good backlinks for SEO. But, it can be time-consuming depending on the method.
Let's look at a few ways to get good backlinks for building SEO.
Outreach
One way to acquire good backlinks for SEO is to simply search Google for websites that are relevant to your website's topic.
From there, you can then send a tasteful email about your desire to write a post for their site which would contain a backlink to your website.
Now, the above statement is a very simplified synopsis of how reaching out to website owners for backlinks works.
There are many strategies on how to go about communicating with other website owners to establish a backlink.
But, let's be honest, outreach can be tedious, take a lot of time, and be tricky.
Backlinks Placement Services
Backlink placement services can work. However, not just any backlink placement service will be ideal. So, again, just go ahead and mark Fiverr off of your list.
You want to make sure that you are using a reputable company to acquire backlinks. These companies will usually be able to provide you with links to their work.
Sometimes backlinks placement companies get clients backlinks from existing content. Other times, though, they actually write content and work out an agreement so that the content can then be published on a contextually relevant website with a good domain authority.
If you use a legit backlink placement service, you can expect to spend between $300 to $600 for one backlink placement.
Develop a Robust SEO Plan That Includes a Backlinks Strategy.
As you set out to build your backlinks, there are a couple of things you should always ensure are taken care of and completed on the front end.
You want to make sure that your entire website is fully optimized. You want to also be sure that your technical SEO is sound, and that your on-page SEO is jam up (this means really good).
When acquiring backlinks for SEO, the page being linked to must be spectacular and better than your competition's content.
You want to publish not only great content but original content.
For example, if a payment technology company publishes a blog for the keyword phrase, "best payment platforms," they should have made a plan well before even publishing the blog.
Before writing the blog, they should already know how many words they have to write to beat their competition and what they have to do to make their post better.
They should also know the competition's domain authority, backlink profile, and the number of social signals. Because all of these things are Google ranking factors, with some carrying more weight than others.
The factors mentioned above should dictate the strategy associated with ranking for a specific keyword phrase.
Backlinks for SEO: A Recap
Building backlinks for SEO is an essential part of building organic traffic to a website.
Google places a significant amount of weight on websites that have links from contextually relevant websites with a good domain authority.
For backlinks to really help boost a website's SEO, the site being linked to should have a technically sound website, great on-page SEO, and content that outperforms its competition.
SEO is a continual effort. Businesses should remain active in finding ways to continually improve their website's SEO.
A consistent backlink strategy that is aligned with an exceptional overall SEO strategy is what it takes to compete and rank in today's competitive world of building organic traffic.
Need help with your SEO strategy, backlinks, content? Let's chat.