Last Updated on August 26, 2022 by James Castro
Read on to learn the actual cost of Local SEO in 2022!
How Much Does Local SEO Cost?
The actual cost of local SEO starts at $400 per month but can be as much as $4,000 per month, per business location. At the lower end of the investment, there is less locally optimized content produced, and fewer backlinks and signals generated. At the higher end of the investment companies typically receive fully managed local content, reputation management, local PR for local backlink building, as well as more research on competitors, keywords, and target market. The investment in local search optimization takes careful consideration and is often based on the competiveness of the industry and search terms.
Why does local SEO cost so much?
This cost is not only based on your business location and the local SEO package that you choose but also, the price is based on the SEO agency you hire and on the strength of the competition. The investment in local SEO should be based on several estimates from experts with a focus on deliverables and results, not just price.
What's the purpose of Local Rank Position?
The purpose of local SEO is to gain even more online visibility for your business by being listed on Map Listings (such as Google Maps) and Review sites, Business Listings, and local search terms such as "Best [Service] Company in [City Name]" or "Pizza Near Me". This combined with your normal organic and paid marketing can be very powerful for your business, and help establish you as an authority.
Going Deeper…
You know the purpose of a well-designed website, compelling testimonial videos, and a great landing page for each of your advertising campaigns – you most likely also know the value of Search Engine Rank Position and building backlinks – and how important it is to your business to show up when people are searching for terms related to your business solution. Local SEO is also an integral part of growing your digital empire, and understanding the price and value of Local SEO can make a huge impact on your ROl.
How Google Determines Local Rank Position:
The following is from Google themselves, who points out that for them, local SEO is all about three key things: Relevance, Distance, and Prominence:
Relevance:
Relevance refers to how well a local Business Profile matches what someone is searching for. Add complete and detailed business information to help Google better understand your business and match your profile to relevant searches.

Distance:
Distance considers how far each potential search result is from the location term used in a search. If a user doesn't specify a location in their search, we'll calculate distance based on what we do know about their location.

Prominence
Prominence refers to how well known a business is. Some places are more prominent in the offline world, and search results try to reflect this in local ranking. For example, famous museums, landmark hotels, or well-known store brands are also likely to be prominent in local search results.

Prominence is also based on information that Google has about a business, from across the web, like links, articles, and directories. Google review count and review score factor into local search ranking. More reviews and positive ratings can improve your business' local ranking. Your position in web results is also a factor, so search engine optimization (SEO) best practices apply.

Google Support Article Link
Local SEO Pricing: Is it worth investing in discount Local SEO?
A quality solution for local search optimization isn't about being cheap – it's about getting a good return on your investment. To do everything that Google wants on your own, and really serve up your business to them and other search engines on a silver platter you need to work with a company that can help you increase your Prominence, and Relevance.
The truth is that some digital agencies charge a premium because they have been in business longer and have a larger pool of clients (and more bills) – and not because they are any better or more qualified than a smaller affordable SEO company – who is hungry to earn your business.
At the same time, a smaller company that is not experienced can cause harm to your local rank position, get you punished by search engines, have your reviews taken down, or even cause your customers to be frustrated with their shameless antics. So basing a decision on local SEO pricing alone, is a little bit foolish.
You must tell yourself that "…it's simply not worth the risk to our brand reputation and SERP (Search Engine Rank Position) to trust the cheapest SEO company near me."
How to get the best deal on professional local search engine optimization?
To get the best deal on professional local search engine optimization, you have to focus on more than the price. You have to look at the deliverables and the value.
Again, when trying to find the best local SEO pricing, it's important to pay close attention to the actual deliverables that come with the SEO package, since that varies significantly between digital marketing agencies as well.
For example, while some companies offer reputation management standards in their local SEO packages, other companies will not.
At the same time, some SEO companies simply resell the white-label SEO packages of other agencies or bigger SaaS solutions – and they really lean hard on "automation" to reduce their fees and make the margins of that solution work for their business.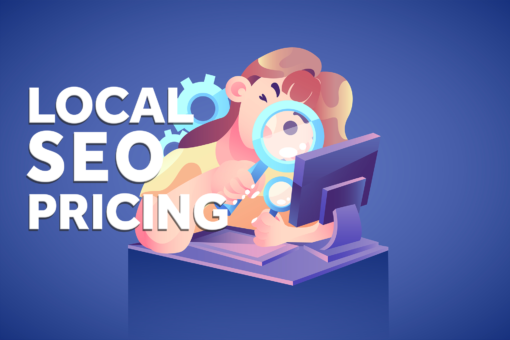 That means a less hands-on approach, more bot-chats, more low-level email support responses, and a generally poor experience for the you, the business owner and the customer who is paying a discount SEO rate for a cheaper or useless local search service. This is only a good deal for the SEO company that now has your money.
To get the best deal on local seo – to get the most value – you must know what is valuable to your business.
Hint: Talented growth hacking humans are valuable. Results are valuable. Hard work is valuable. Online visibility is valuable. But there's no shortcut. Sometimes the hard way is the easy way. But the fastest way is always working with someone who knows what they are doing!
If you want the most value for your investment you want to find a company where you can engage with someone who is willing to take the time to talk to you about your SEO goals and progress, and not just for the free consultation (sales presentation). You need some smart humans in your corner, the more the merrier too.
You want to connect with a company like ours, an SEO company that will not just automate a monthly report to send to your email on your new Local Citations and Business Listings, Reviews earned, or your average Keyword Rank Position. Those KPI's are important – but it's not everything.
You, the savvy business owner who is still reading this local SEO pricing guide are committed to getting a great deal for location based optimization, and fundamentally that means working with a company that values you enough to take their time with your account and treat your goals as they would their own.
In the end, if the SEO company's top-level team is actually talking to you on a regular basis – there's a high chance that you will learn more about local SEO than talking to a newbie project manager who is reviewing your monthly KPI's. The value of that is incredibly high because there's a very real chance that you'll learn to do it by yourself.
Why the large price gap in local SEO prices?
If you hired a dedicated expert in local SEO, they would always base your investment on the locations you serve as well as the competition, and how long it takes that expert to put the systems and practices in place to get results.
They would form a custom plan for your business that would fit perfectly into your overall growth strategy, and whatever budget you had to go towards local optimization would be the cost.
However, SEO agencies can't operate effectively at scale with this model. They can't treat every client like their only client, so instead, they follow a "checklist" of features that are included in all SEO plans, and then they add to that based on additional needs.
They put a project manager on the accounts who can handle the basics and have a level two-person and account manager to save them from making too many mistakes with your account.
This gives SEO agencies the ability to serve more clients with the same policies and procedures increasing their profitability while also allowing them to compete with freelance SEO service providers and discount local SEO providers, who might not have the skill but do have the salesmanship and the lower rates. Its' a well-oiled machine and these SEO agencies make a lot of money this way.
The downfall is that small businesses on a budget who need local SEO but can't afford in-house support get stuck in these generic SEO packages which fit like a cheap suit but cover all the basics.
If your business is highly competitive, and your location is also very crowded – such as a major city, you can expect to pay a lot more for local SEO that works, than if you're in a rural area with very few competitors.


What's included in a local SEO package?
Local SEO services with fixed packages typically include the following services:
On-Page Optimization; Business Listings (Citations); Reviews and Reputation; Content Creation; Monthly Reports.
Let's discuss each of these in a little more detail so you know what these terms mean in relation to your results.

On-Page Optimization: This includes adding meta and titles, including the NAP (name address phone)to each page, content optimization, schema mock-up, and alt tags.
Business Listings (Citations): There are hundreds of business listing sites that can host your NAP data and contact information – even reviews. Getting these all aligned helps send the right signals to Google, Bing, Apple, Facebook, etc. and drive better Local SEO results.
Reviews and Reputation: Actively gathering real reviews from clients and customers across various review sites, and on your own site for schema and displaying ratings in search results.
Content Creation: Local-focused content in the form of blogs on a schedule and service pages. This can be taken to the site-wide level and website design and content structure, but that's typically beyond the scope of Local SEO services from most agencies.
Monthly SEO Reports for Location Optimization:
Tracking and Reporting on Clicks and traffic to the website, including unique tracking from social channels, phone tracking and reporting from Google My Business, Citation Tracking – typically with another tracking number for grouping citation leads and measuring overall leads from local search optimization, and also keyword tracking in systems like Ahrefs, Majestic SEO, or others to see what local search terms are performing and where more energy should go.
All of these are typically provided in a report for a broad overview of what was done – as well as a roadmap of what will happen next.
Why do local SEO services range so greatly in price and quality?

Besides what's listed above there are plenty of other solutions that can be used for Local SEO and if the potential return is there for your company an aggressive push into local has no limits on what is possible and what you could invest. Content marketing can focus on local optimization for location-based keywords and include blogs, service pages, video production, social, and more – all for better local optimization.
Same for link-building such as sponsoring local charity events, and focusing on local PR. It's just part of the game, and you have to be strategic on what you do with your available resources.
To really compete with national-level competitors you either need a unicorn of an employee or three (people who are masters of several digital growth skills), or you need the dedicated support of a quality people-focused agency (like us!)* to really be there for you and guide your local optimization as if it was our own.

*Seriously, talk to us. You will be very impressed with our seo services.

What is the best local SEO Pricing plan for your business?
To know if the discount services or the premium services are right for you, it's good to look at your KPI's and your business goals. How many customers are available to you if you did make progress in local SEO? What's the lifetime value of those customers? And how can you prove results and assure that your investment is producing positive ROI? If you're able to correctly invest in Local SEO at the right price, it can be very profitable for your business.