Last Updated on December 21, 2018 by Kari McLain
How many web pages do you think you come across on a daily basis? Not even counting anything work-related, chances are if you really sat and thought about it, the number would surprise you (or scare you into throwing away your smart phone). How many times throughout the day does a brand or local business you follow on social media offer a "swipe-up to see more" or a link to a "special discount" that takes you to a separate web page?
Once there, what about that web page makes you want to stay there? Or at the very least, bookmark it for later? Most of the time they can be pretty terrible. If you're working on creating a landing page for your business, it's important to think about the qualities that will matter most to visitors. What key features make up the best landing pages?
Your Unique Selling Proposition (USP)
Early stages of business marketing almost always start with the unique selling proposition. The by-the-book definition usually paints USP as:
The factor or consideration presented by a seller as the reason that one product or service is different from and better than that of the competition.
Simply put, your USP is what makes your business, or perhaps in this case, your specific offer, special. It sounds like a simple concept, but digging deep to not only identify, but understand and develop a USP is the backbone of your marketing efforts. If you don't take what makes your product or service better seriously, why would any potential customers?
Once you have really identified your USP, you can think about how best to market it on a landing page. The first thing you'll need to think about is the strength of your landing page above the fold. That is, the area that a visitor sees without having to scroll at all. Starting with a main headline.
Main Headline
In order to make the best landing page to communicate with potential customers, you need to understand what it is that separates you from your competition. A great name and logo are one thing, but if you can sum up what your company offers in a few words, what would that look like? That's your main headline. Will it truly captivate someone's interest?
Check out a few examples:
State Farm – "Here to help recovery go right."
Netflix – "See what's next."
Lyft – "Grab the wheel and start earning."
Sometimes, main headlines are ambiguous. But if they're interesting and alluring, they help to set a narrative tone. Think about it, aside from the logo, this large piece of text at the top of your page will most likely be the first thing visitors see and interact with. Save your more detailed information and explanations for your supporting headline and reinforcement statement.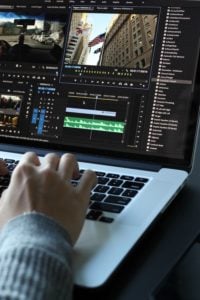 Pair your headline with an excellent hero shot or video. Usually a hero shot will be in context with whatever your text is displayed while also giving a little more insight into your business. Now is the perfect time to use any great in-house photo or video content. Stock photos are great, viable options, but nothing beats original content that actually shows your business.
Again, this is the first thing visitors see. What are things that stand out to you on some of your favorite brand or company landing pages? Think of it as the front porch of your website, it should be inviting and pique interest.
Your supporting headline and reinforcement statement should do just that: support and reinforce. Find a way to creatively expound on your main headline and content without giving everything away just yet. You want to keep visitors on your page without overwhelming them. They should want to learn more, not be force-fed text.
Benefits
Think of a landing page as having all of the elements of an elevator pitch – just with even less time. Ok, so your main headline and hero image has held a visitor's attention long enough for them to start scrolling. Now what? Why should they be motivated to choose you? Here's where you get to tell them!
Use bullet points.
They're short and succinct.
And get to the point.
Plus they're attention grabbing.
This is a great opportunity to showcase any key features in a bit more detail. You can get creative here. Use light graphics or images instead of text bullets to keep things interesting. But keep in mind this is a key turning point. This is where you really show what your business has to offer and why a potential customer should choose you.
How else can you do that? At this point, you're asking people to put their trust in someone they've never met. Digital interfaces are impersonal as it is, cut through that a bit with social proof and trust indicators.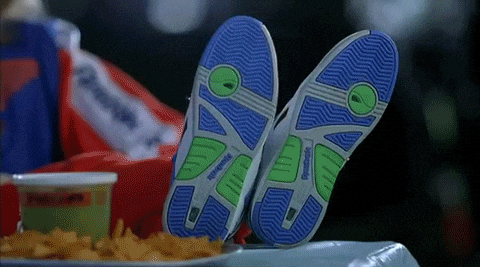 Showcase any high-profile or well-known clients. Use personal customer reviews or testimonials. If your business has been recognized or awarded in anyway, now is the perfect time to show that off. Great copy and content are essential, but showing customer satisfaction and the effectiveness of your business helps ground your services in reality.
Other General Tips
Before we get to closing arguments and call to actions, there are a few other areas that are important to cover. For one, it doesn't matter how great your landing page is. If no one ever actually lands there to see it, you can forget about any conversions. Increasing traffic is where great SEO comes in. Just like your other web and blog pages, making sure your search engine optimization is up to par is the key to building up those page views and becoming one of the first pages people see when performing web searches in your industry.
Secondly, your general web design should be clean and modern. By this point, you should have strong, cohesive branding. Your pages will be optimized to fit any screen on any device. A recognizable logo, consistent colors, and structure help psychologically trigger visitors to specific moods and feelings.
Content is still king. If you have other images, graphics, or better yet, video that further help pick up what you're putting down, now's the time to roll them out! Just make sure it's content that people will want to engage with and actually helps your sales push. Unnecessary, bloated content = shooting yourself in the foot. This should be the fun side of business marketing.
Seal the Deal
You've laid everything else out, and now, it's time to close. No matter what your business or service, you should have a single conversion goal. Think back to your USP. Your other content up to this point should still be a reflection of your core unique selling proposition. You've led visitors this far, now it's time to convert them
Keep things simple. Your conversion goal should be singular with a direct call to action. Use strong buttons and visual cues along with clear and concise language. Potential customers should know exactly what they're getting by clicking or filling out a form. And if you've laid the proper groundwork up to this point, you've put the onus on them to follow through.
Still not sure if your landing pages are there yet? That's where we at MVMG come in. If your website isn't designed to help your business grow, or if you're not really sure what that means, check out this offer. We're giving you the opportunity to preview a brand new website design for FREE, in three day's time, no strings attached!
Bet you didn't see that coming! Or maybe you did, given that Multiverse Media Group is a full scale digital marketing agency. At any rate, it's a pretty sweet offer, and it ain't too bad of a landing page experience either! Check it out for yourself and feel free to connect with us today for all of your digital marketing needs.