Last Updated on July 22, 2022 by James Castro
Business growth is a major concern of just about every business owner we talk to and we usually start out by asking a few introspective questions.
Are your online visibility and marketing efforts not giving you the results you hoped for? Do you notice your business competition enjoying more success than your own company?
Are you unsure if your ideal customers even know that you exist while everyone seems to be talking about your competition? If you find yourself answering yes to even one of these questions, there's an easy way to figure out why: That's by studying your competition, what they're doing online, and what they're doing better than you. Curious about where your site is at? Do an online assessment of your website.
Your Competition's Website Boasts Higher Search Engine Rankings & Domain Authority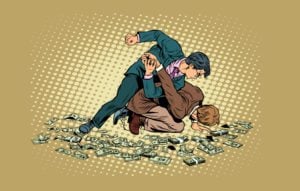 Figuring out why your competition is seeing more online traffic than you involves first looking at how they rank organically compared to you in search engines for your industry's key search terms as well as their website's DA (Domain Authority) compared to yours.
Domain authority is a 1-100 point grading scale that is associated with the "strength" of your website and is determined by three factors: the age of your domain, the popularity of your domain, and the size of your domain (number of indexed webpages). Websites that have strong on-page SEO and high Domain Authority will dominate search engine result pages.
For a more in-depth look at domain authority and other Moz metrics that can be used to understand your site take a look at our Jacksonville SEO case study and then you can use our SEO Audit Tool to find out your own site metrics! Another important thing to distinguish is if it makes the most sense for your business to target local search engine rankings and Google 3 pack results or if you should be doing a more general SEO strategy.
There is a multitude of factors that contribute to increasing your site's search engine ranking and DA, but we'll list out just a few of the major ones you'll need to be conscious of:
Relevance
When it comes to search results, your page's relevance is the most important factor; if you're selling, let's say, yellow chairs, and someone searches for "where to buy yellow chairs," he or she will be disappointed unless they specifically land on a page that is selling yellow chairs.
Relevance was once mainly determined by having the exact keyword in the domain, title, and body of the page, but Google has become awesome at picking up synonyms and user intent as factors.
So now, if a searcher types in "yellow chairs," Google is aware that the individual probably wants results relating to where to BUY a yellow chair, not an article about how to build a yellow chair or an op-ed on why yellow chairs are better than red ones. THAT'S user intent, and it will go a long way in your Internet marketing efforts. This is why your website needs to have strategic and impeccable search engine optimization.
Backlinks
Backlinks are when one website links to another. It counts as a "vote of confidence" in Google's eyes for the site being linked to a specific keyword string/subject.
Backlinks are not a key ranking factor (really) but they need to be part of your analysis regarding your competition's edge. That's because quality links are signals to your EAT (which is also not a ranking factor, also really), but these things do add up and can make a huge SEO impact.
You also need to consider that backlinks are important on both a page level (links to the exact page) and on a domain level (total amount of links to all pages on the domain).
You also need to understand that not all links are created equally; links can exhibit different values depending on which page they are located on and where they originate. A backlink to your site from a high Domain Authority site holds much more weight than a backlink from a lower Domain Authority site.
Social Shares
This is related to relevance, but there are a few differences important to note when evaluating it. The number of social shares a page has can divulge just how much a page is satisfying (or not satisfying) searchers and can definitely affect the DA of a site. Similarly, if people are leaving comments such as "I love this product!" or "They really know their stuff!" it can be assumed user satisfaction is high. On the flip side of that coin, if there tends to be many complaints or criticism, most visitors probably left the page unsatisfied and returned to their search results for other options.
User Experience
Google has made it clear that it wants you to optimize your website for your visitors' experience: ease of navigation, engaging and easy-to-read information, no broken links, etc… and your competition may be doing this much better than you. Google leans towards ranking mobile-friendly and fast-loading pages higher in their results.  It would be wise to fix technical issues, optimize user experience, and make Google your BFF.
Your Competition is Investing Money in Online Marketing
We all understand how difficult it can be to work within a budget, and if you find yourself short on the monetary resources to pour into a solid digital marketing strategy, consider this: if you're not investing in the visibility of your company, you're missing out on major traffic and subsequent sales– which is ironically the solution to your budget constraints.
Now, to this end, your competition is most likely strategically investing money in Internet marketing, and probably has a dedicated marketing budget to work with. Here's something else to keep in mind: According to eMarketer, more is being spent on online marketing and shifting away from traditional marketing approaches in spite of recession-like conditions. This is almost undoubtedly due to the fact that they are seeing a major ROI with this strategy. Can you afford not to be where your competitors are in the digital marketing realm?
Your Competition Knows Their Target Market & Ideal Customer
No matter if you're selling used auto parts or aiming to bring in new medical patients, you need to understand how your customer thinks and what their needs are if you want to maximize your results. Trust us, this is something your successful competition has probably mastered. Who are you selling to? Why should they buy your product/service? What do they stand to gain? These are all questions you should be asking as you reinvent your online marketing strategy. Understand the problems you solve (AKA your Unique Selling Proposition) and paint a picture of your ideal customer: demographics, income, age, geographic location, etc…
If you don't truly know your customer, how can they trust that you have what they need?
Your Competition Studies Their Own Competition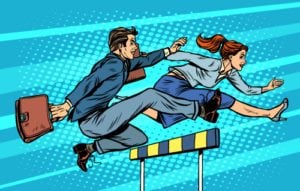 You can bet your bottom dollar that if your competition is more successful than you online, they know exactly what you are doing online… and what you are not. Just take a look at the world's best athletes, entrepreneurs, and Fortune500 business executives; studying the competition is part of their routine. Kobe Bryant wouldn't be the superstar he is if he didn't watch videos of his opponents before games, and Sam Walton wouldn't be the billionaire-mogul he is if he didn't visit stores that competed with Walmart.
When analyzing your competition thoroughly, you're going to need to know key points to look for – it's not about copying their ideas, but it is about determining their strategy and why they take the steps they take. A couple of things we can recommend are:
Discovering what your competitors do and the reasoning behind it
Use what people say about your competitors for product/service development
Your Competitors Track Their Analytics & Make Smart ROI Decisions
You don't need to be a Fortune 500 company to make your marketing campaigns profitable. Don't you want to know if your content marketing and social activities are actually supporting your business? Aren't you wondering how you can track your business' progress and whether the money you are spending is bringing in a return? We can sure as day promise you that your competitors are wondering about these things as well– while making smart Return On Investment decisions.
Basic metrics of blog comments, social share numbers, and page views won't give you the Return On Investment information you need. The more you're aware of how things are connected and the deeper you look down the "funnel," the more equipped you'll be to make better decisions. Think of this like the dashboard of a car: Tools like Google Analytics allow you to monitor your website just like a car's dashboard monitors factors such as fuel consumption, speed, etc. Once you take advantage of and begin to learn what content is most engaging and which strategies are working the best, you can start to make the right decisions when it comes to your campaigns.
For example – your best content should be put on the front lines, used in heavy rotation for social media, and linked to other blog posts.
Next, it's time to check traffic sources (the referring websites– most of which are social networks today). The insights you gain will help you accurately gauge and optimize your activity to make better decisions.
You can even dive down to a specific Tweet/link and track its conversion as well as discover the specific number of people who clicked on an individual Tweet or anywhere else you created a link.
The bottom line here is finding exactly where people came from to get to a specific page – this gives you insight into what content pieces and strategies are performing well (or failing abysmally) on each platform.
See How Your Site Measures up to Your Competitors!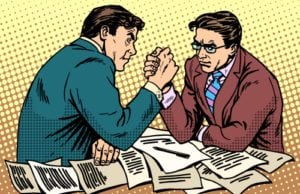 If you've been dreaming about a way to corner the market in your industry, but your internet marketing plan hasn't been up to scratch compared to the competition, consider all we've outlined above and take an introspective and critical look at ways to improve.
Find out how you rank compared to your competition with a professional website audit, contact us today.