Last Updated on July 30, 2022 by James Castro
In this article, we'll discuss blogging for SEO. We will look at specifically what it takes to build targeted organic traffic with search engine optimization (SEO) and content marketing, get more of your ideal customers to your website, and keep them there. There's a strong focus on blogging for niche sites on this one, so if that's your goal, read on. If not, there's something here for anyone interested in improving their blogs.
Let's take a closer look.
Blogging for SEO: All You Need to Know
In short, successfully driving organic traffic to a website with optimized blogs involves doing several key things correctly and consistently over time. This includes writing original, informative, and engaging content.
In addition to that, you need to find a way to monetize your traffic, so if all your blog content is just about faq for random inquiries, you will most likely get a lot of traffic but it will not benefit your company or personal brand. It's important to know what stage of the buyer's journey your blog is written for – is it going to lead to a purchase or education? Note, sometimes educations lead to purchases.
We will write a blog on this in the future, and link to it here, but for now, let's stick to the basics.
Unfortunately, some organizations invest a lot of time and money into blogging, but their blogs don't generate traffic. The reasons for not generating traffic or leads can vary. Sometimes the fix is just a matter of making a few SEO tweaks. Other times, issues with site structure, keyword selection, site speed, and other factors can have serious impacts on a site's organic ranking.
Below we'll go into detail about what keeps a web page or blog from getting organic traffic. We'll also explore how to write an optimized blog that gets organic traffic from search engines. If you run a business, consider checking out our blog on Blogging for Business as well.
And, we'll touch on some fundamentals for having a website and blog that is attractive to the Google algorithm. These key website features can play a critical role in getting a website's blogs indexed in Google in a position that draws in potential clients and customers.
Building Organic Traffic with SEO and Blogging
For some organizations, blogging can just be an exercise of going through the motions and hoping that a newly published blog thrown at the "interwebs" will stick in a good position in search results.
Unfortunately, without doing the necessary work before writing a blog, results can often be disappointing. In other words, a blog might get little to no traffic and might not bring in a single lead or sale. Conversely, a well-optimized and engaging blog can bring in numerous leads and sales for years to come.
There are several components crucial to successful blogging. Although the Google algorithm changes frequently, there are some practices and essential components of writing a successful blog that always remain constant. These are things that are essential for writing great blogs – blogging for SEO.
Do Keyword Research Before Starting a Blog
Keyword research is where it all starts. This step in blogging can't be skipped if you are looking to write an optimized blog that has a chance at ranking and getting organic traffic through search.
Research keyword phrases – learn the data on keywords to make a case for blogging using a particular phrase. Don't just write about a topic or keyword phrase because you think that people are searching for it. Look at the numbers – the data.
For example, look at Search Volume (SV). This is the estimated number of times a keyword phrase is searched by every month. Also, you'll want to look at Keyword Difficulty (KD). Keyword difficulty shows how hard it is to rank for a particular keyword phrase on a scale of 1 to 100 with 100 being the most difficult.
Keep in mind, many variables will determine if one website or blog can outrank another website in search results.
The search term, "credit cards" is highly competitive. So if a big bank publishes a blog about "credit cards for business," the chances of a small-time blogger outranking the bank is slim to none. Wait, let's just go with none.
However, depending on the market, keyword difficulty and the ability to rank can vary considerably.
Take the keyword phrase, "blue crayfish," for example. This is a keyword phrase that currently has a monthly search volume of 8,100 and a keyword difficulty of 45.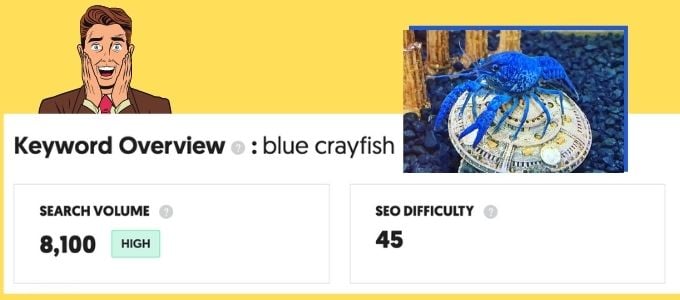 Although this phrase is somewhat competitive, one needs to take into account the actual websites that are ranking in top positions on Google. Are all of the front page listings big names like National Geographic, The Learning Channel, or a well-known science website?
If so, the competition might be a little too strong depending on your website's SEO ranking. But, if the top results are small WordPress blogs and affiliate websites, this keyword phrase could pay off assuming it's written correctly and published on a contextually relevant website. And, talk about engaging, I mean, a blog or website on blue crayfish? How do you beat that?
Smaller websites, or websites with a lower Domain Authority (DA), should select niche long-tail keyword phrases with a lower keyword difficulty and a search volume of at least a few hundred searches per month.
Domain Authority is a number on a scale of 1 to 100 that ranks a website's SEO strength. Sites are considered pretty strong when they get to around 50 and over.
Determine Search Intent
After deciding on a keyword phrase with a good search volume and reasonable keyword difficulty score, it's important to determine the "search intent" associated with a keyword phrase.
Search intent shows what types of content are being served for a particular keyword phrase when searched in a search engine. In other words, if you were to search the term "blue crayfish" and you received a search results page full of recipes for dishes with blue crayfish, then blogging about blue crayfish as pets wouldn't be a good idea.
The science behind search intent is pretty simple. Google's AI learns what types of content end-users are responding to. In other words, Google determines which web pages are answering a user's search query.
So if you are checking the search intent on "blue crayfish," and the search results are nothing but blue crayfish recipes, unless you are publishing a recipe, you'll want to find another keyword phrase or write a recipe blog to have a chance at ranking.
Other types of content pieces you may find are product landing pages, review pages, lists (Top 5 Blue Crayfish Recipes…), and "best" pages.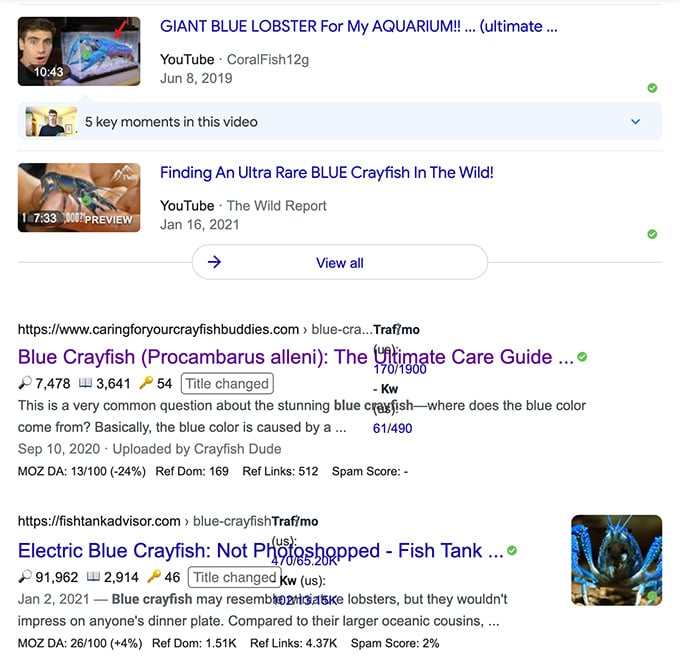 Blogging for SEO: SEO Tools
To properly build a website's SEO strength, it's highly recommended that organizations use several SEO tools for analysis.
There are many SEO tools and different types of SEO software used by online marketers, SEO agencies, and big corporations.
Agencies and corporations use tools such as SEMrush, or AHREFs, to research keyword phrases, monitor keyword positions, analyze competitors' keywords, backlinks, and run reports, among other things.
Also, here's a cool little Chrome plugin that is free. It's called, Keyword Surfer. Basically, any time you do a Google search, this plugin will then give you the number of monthly searches and the cost-per-click (CPC) if you were to advertise with the keyword phrase in Google Ads. However, for SEO, it's just a cool little tool to quickly get a feel for monthly search volume.
Again, companies looking to better the performance of their websites organically should strongly consider using one of these SEO tools. Blogging for SEO rank can be pretty difficult as it is, and not having the right tools can make things nearly impossible.
Make a Blog Outline
After finding a keyword to blog on, and determining search intent, make a blog outline. This makes the blogging process so much easier.
To write an organized, detailed, and well-optimized blog, knowing what will be written makes things much easier. A blog outline is a roadmap of sorts and helps you arrange your thoughts and visually see the path to take on communicating your message.
Although blog outlines can and will often be modified while writing, starting with no direction can become very frustrating. Additionally, remember to use H2 headers for the bigger topics of the outline and support them with H3 headers and bullet points when necessary. And, always wrap up with some sort of recap.
Write Blog Content that is Better than the Competition's
As you write a new blog, you'll want to make sure your content is better than the competition.
If the top blog in Google for the keyword you have chosen is 1,000 words, make your blog 1,500 words or more. Give more info, use infographics and videos, and be sure to make your content original. But the real focus beyond the length of the blog should be engagement. You want to make sure the content is engaging so that readers will want to stay on your page and read through your super-unique and original content that they can't find anywhere else on the interwebs.
Also, consider what types of things you might add to make your blog engaging and increase the amount of time the end-user stays on your page. Short and informative videos can be great, unique and useful infographics can work well, and anything that adds or provides value.
Doing these things will greatly improve your SEO and chances of outranking the competition. Doing these things will also make your readers happy.
On-Page SEO
For on-page SEO, or the SEO throughout the page, be sure to do the following:
Include the keyword phrase in the blog title.
Use the keyword phrase in the first paragraph of the blog.
Use synonyms and variations of the keyword phrase throughout headings and subheadings of the blog.
Name images of the keyword phrase and variations of the keyword phrase.
Use ALT tags for images that contain the keyword phrase or variations naturally (no keyword stuffing).
Build an internal linking structure with varying words in a blog (don't always link from the exact keyword phrase).
Name the URL of the blog a short version of the keyword phrase using hyphens as spaces. For example, "blue-crayfish.html".
Update the blog as needed to freshen it up and make it current.
Build Those SEO Legs
This one is pretty simple actually, but still, some websites don't follow this rule. Keep your SEO topics between three to five max.
For example, if you have a website for aquarium hobbyists, you might have a category or topic on aquariums, one on freshwater fish, another on aquarium plants, and another on blue crayfish. With this approach, you keep your SEO concentrated. It's all related to the main topic of aquariums.
Using this method, write every blog so that it uses a keyword phrase that fits into one of these categories. This is simple with websites that use WordPress. With WordPress, you simply add each blog to one corresponding category for each blog.
When websites don't keep their SEO topics focused so that they support the main topic or keyword phrase, this is where SEO value can be lost.
For example, if on an aquarist website, you randomly published a blog on "eating fish to lose weight," or publish a blog about your favorite workout, you'd be throwing Google a major curveball.
So, make sure that all blogs support one of the topic categories.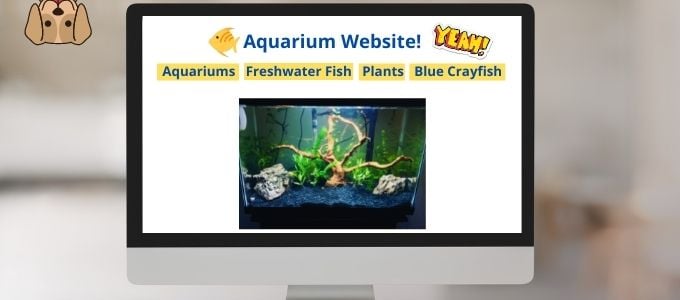 Blog Cleanup
Sometimes bloggers and SEOs don't have the luxury of starting with a clean slate to build on. In other words, they have to do a bit of cleaning up sometimes.
SEO cleanup can involve various types of things. But, in terms of blog cleanup, it means getting rid of or improving content that does not add SEO value to a website.
In the example above, about blue crayfish and aquariums, a blog about fishing would not exactly add SEO value. So, if this were the case, and for whatever strange reason, a blog about fishing did exist, deleting that blog and making it into a 410 redirect would be the best idea.
When an SEO 410s a piece of content, the 410 redirect basically tells Google that the content doesn't exist anymore. Also, "thin content" or content that is in very short-form, can be added to other blogs, built out into lengthier content, or even redirected to a contextually relevant blog with better content. This redirect is done with a 301 redirect.
Collectively, the practices mentioned above can greatly enhance the SEO of blog content and a website overall.
User Experience, Speed, and Mobile
When you think of "blogging for SEO," you might not immediately think of user experience. But, it's one of the many pieces that can impact SEO for business websites.
As we know, Google looks at user experience as a ranking factor, among other things. It also looks at the speed of a site, and if the site has a user-friendly experience on mobile devices.
So, even though blogs may be perfectly written and optimized, without considering SEO overall – technical SEO, site-wide SEO, site structure, etc., there can still be issues.
Basically, be sure to consider the entire SEO health of your website.
Publish, Promote, and Update Blogs
After publishing a new blog for your website. Promote the blog by sharing it on social media platforms and through email lists. Also, update the blog as information changes or as new information is discovered that can improve the value of the blog. Google likes to see those blog updates and that fresh content.
Blogging for SEO: a Recap
Blogging is imperative for building organic traffic to a website. And, blogging for SEO the right way leads to blogs that can generate new traffic and new leads for years on end.
Researching keywords is one of the most important steps in writing a blog. And, to do this the right way, you'll most likely want to use SEO analysis software. SEO tools like AHREFs can make things much easier for all things SEO.
Additionally, making a blog outline before writing, producing better content than the competition, and keeping up with side-wide SEO factors such as user experience, site speed, and mobile-first design can all impact the SEO of an entire website.
Need help building out a content calendar for your blog? Need guidance with the search engine optimization of your website? Let's chat.