Investing in a Website
Nowadays, if you run a business, you need a website in order to attract customers and maintain loyal, profitable relationships with them. Business owners need to start thinking of their website as an asset for their business; just like a physical location can be welcoming or inhospitable, so can your website, but with potentially far more visitors. Knowing how much a website cost requires an in-depth overview of the many hidden costs of building, maintaining, and marketing your website.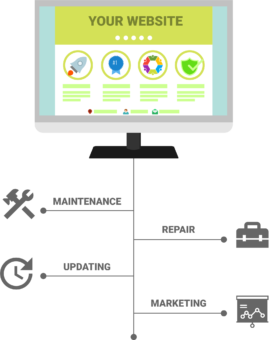 What's right for your business…
Investing in a business website requires careful consideration. Cost is always an issue, and what might be right for your business could be completely wrong for another business in a different industry or market.
---
Investing in a Business Website – Cost Breakdown:
In this section, you'll go through each of the three key elements of a successful website—building, maintaining, and marketing—to see what, exactly, you require in each stage and the approximate range of costs for each today.
How Much Does a Website Cost to Build?
Web design prices can vary considerably depending on whether you do it yourself or hire out the job. Here is a brief overview of the difference in price ranges between those three choices: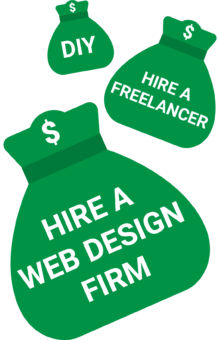 Building a website, expect the following price averages:
DIY using website-building software – Free to $500 (+ time)
Hire an independent freelancer – $500 to $5k
Hire a web design agency – $10k to $150k
In most cases, the more you do yourself, the lower your initial monetary costs will be, but the greater your expense in terms of time. Beyond your time, the poorer quality and less professional or functional your site are, the less likely your site will convert visitors to "leads" or sales due to poor user experience. By the reverse token, investing in a professional business website will cost you far more upfront monetarily, but it could free you up to focus your time on tasks for which you're uniquely qualified, and give you the confidence and peace of mind of offering a quality website experience which today's customers expect.
The more you do yourself, the less you spend upfront.
Website quality should be competitive with your market.
If your website looks bad, your company looks bad.
Knowing what a website should cost in can lead to greater ROI.
---
Factors That Influence the Cost to Build a Website
Many factors influence the initial investment or cost to build a website, but oftentimes that additional investment upfront means greater long-term ROI:
Pages – Every page you add to your website adds to your total cost.
Design style – The simpler, the cheaper; the more intricate, involved, or high-end, the more expensive.
Copywriting – The quality of your pages' content, namely, the higher the quality you want that content to be, the more it will cost you upfront.
SEO – plugins are not SEO. SEO is in your site's planning, layout, design, content, and structure. You should take time (spend money) planning your SEO before you build. If you're rebuilding, it's an essential step as well.
Time – the more time spent on research and strategy for Search Engine Optimization, the more that will cost you upfront.
Competitor Analysis – You can build anything you want, but if you're not paying attention to your competition, it could waste your time and money. Research costs money, but it's money well spent.
Branding – If you don't have and follow a brand guide, you're likely going to get a mess of a site. You need to create this so that each page and supporting resource creates a unified whole.
UX/UI – Again, you can build without doing user testing, but if you do, you're missing some great opportunities to convert and make your site really valuable to your audience.
Advanced Features such as eCommerce capabilities, membership sites, or even advanced Analytics or conversion tools add to the cost.
Additional Capabilities you want your website to contain will add further costs to your bottom line, as explored in the next sections below.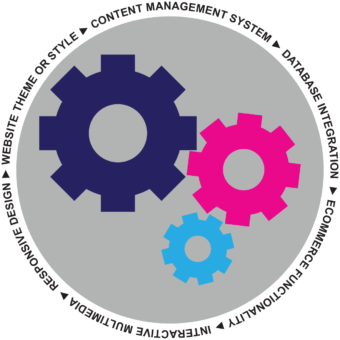 ---
Key Parts of a Website
When considering the potential costs to build your website, the best place to start might be with the critical elements all websites must contain. Many of these costs are one-time costs, while others require continued resources in order to maintain (more on that in the next section below).
#1
Domain Name
---
Domain name ($5 to $60) – Your URL, such as www.my-domain-name.com. This is your brand identity on the web, so choose it carefully. At the very least, make sure your domain name is uniquely-identifiable as yours and easy to spell (see more on domain name selection below this list.) When you purchase a domain name, you purchase it for a period of time (such as one year) after which you must renew it in order to retain ownership. If you do not renew your domain before it expires, someone else can purchase it for their own uses afterward.

Note: Premium domains can cost much, much more, sometimes millions. However, if you have a billion dollar idea and the resources to do something about it a premium domain is certainly an asset.
#2
Web Hosting
---
Web hosting ($4 to $10k) – Your website needs to be accessible from one or more reliable and secure computers, or servers, all the time so that anytime someone wants to visit your site, a server with your website stored on it is running to provide it. Web hosting gives you access to the services of such servers to accept requests from visitors to your website and deliver them the web pages they seek. How much you pay for web hosting can determine how secure your site is, how fast and reliably your web pages load, and how much or little your website can expand. It also plays a role in your susceptibility and responsiveness to crashes, website issues, updates, and other maintenance considerations and concerns. To share servers with other sites (called shared hosting) is much cheaper than a virtual private network (VPN) or dedicated server.
#3
Web Pages
---
Web page(s) ($500 to $5k) – The actual content that appears in your visitors' browser windows when they visit your site; every site requires at least one web page, though your site can have any number it needs. Think about the length and quality of written content. Ever read a bad news article?

Most likely you wouldn't waste the time. Same with your website copy for example. A great copywriter or designer (or any digital storyteller) can keep your visitors on the page, help educate your audience and then convert them into lifelong customers. What you invest per page in website copy, graphic design, stock images, video production, photography, interactivity, communication forms, or features like A/B testing (multivariant testing), should be based on the potential for ROI. What is the lifetime value of a customer? What are your margins? What are your competitors doing to attract those customers? How saturated is the market? What's your potential for online visibility or greater website traffic? Thinking about these things goes a long way to understanding how much you need to invest in your website pages.
#4
Security and SSL
---
It might seem minor, but the potential risk for not mentioning security as it relates to the cost of your website (and business) is major. SSL certificates are standard now. Many users will run away, as all major browsers now signal to visitors that the website is unsafe for them to visit.

Besides the fact that not all SSLs are equal, there are many other security risks that must be considered. How your website is built, configured, and hosted can prevent or open up your website to risks. Risks such as "Injection Vulnerabilities" (commonly from SQL queries) can expose your data, but oftentimes template site builders (or unwitting freelancers) increase the risk through "bloat code" from template site builders (to save time) or installation of outdated plugins (to reduce costs). Security risks such as "Data Exposure", "Broken Authentication", "XXE attacks", "Broken Access", "XSS Vulnerabilities", and so on increase with misconfiguration, outdated components, ignorance or neglect, and can cost your business, well, everything. Think "The Three Little Pigs (2.0)" and expect to invest anywhere between $0 to $1500 per month on security.
---
More on Domain Names
You can have multiple domain names directing visitors all to the same website. Many website owners with hard-to-spell domain names or domain names that look similar to other familiar words often purchase multiple domain names containing those variations so they can be sure to capture people intending to visit their site despite entering the URL wrong.

Keep in mind that, to ensure security for all your visitors, you must purchase a separate SSL certificate for each domain you utilize to direct visitor traffic to your website.

If there is a specific domain name that you want to use, but it is not available and you're unwilling to come up with an alternative, you can try to purchase that domain from its current owner, although this can often cost in the range of thousands of dollars.
Other Useful Website Elements
In addition to the essential website elements laid out above, you also need to figure out what other content, features, and capabilities you want your particular website to possess. These other, optional, elements you may choose to incorporate into your website include:
Content Management System, or CMS, ($2k to $10k) – For content-heavy websites, this can be essential to create and manage it all.
Database integration ($2k to $25k) – To track large quantities of data, such as subscribers to your email newsletter, you need proper database management.
Ecommerce functionalities ($2k to $25k) – To sell products and services on your site, you'll need a store that can present and track products, take orders, and process payments.
Interactive multimedia ($250 to $10k) – Offering video content or other mixed media content will cost extra (and not just to create but in later storage and server costs.)
Website theme or style ($2k to $15k) – If you don't have a Brand Guide, you probably don't have a "brand" in any formal sense. Before you invest in expensive themes or styles for your site invest in brand strategy and documentation!
---
How Much Does a Business Website from Multiverse Media Group Cost?
At Multiverse Media Group, our average website cost is between $8,000. Some websites are $2,000 and others are $40,000. We believe in investing resources where they are needed. We focus on creating strategic digital assets – not just pretty websites.
Our goal is to help our clients make the best decisions within their budget, decisions which are likely to produce a positive return on their investment. Doing anything more or less is simply unethical.
How Much Does a Website Cost to Maintain?
Once you've built your website, there are certain ongoing costs involved in maintaining it. Without such routine maintenance, your site will go offline. To avoid such a disaster happening to you, consider the following maintenance costs when devising your website's budget. Note that many of these are costs to continue using services and features you already purchased in order to get your site up and running.
CMS
Domain name
Ecommerce capabilities
SSL certificate
Site cleanup, updates, and optimization
Web hosting
How Much Does a Custom Website Cost to Maintain on Average in 2020?
In general, you can expect to spend between $35 and $5k each month to properly maintain your website, depending on its size and scale.

Annually, you can anticipate spending $400 to $60k in website maintenance costs. These costs may include one-time charges for such investments as installing new software, expanding features, upgrading storage or security solutions, or redesigning your logo.

Note that some web maintenance service providers may charge annually rather than monthly, while others may give you the option of paying monthly or annually, offering a discount if you choose the latter.
---
How Much Does a Website Cost to Market?
Of course, building and maintaining a stellar website means little if nobody knows about it. The only element that makes a website truly successful is visitors. You can't optimize traffic with a/b testing, UX/UI testing, heatmaps, or so on without traffic! To bring in those visitors, not just once but consistently over time, requires marketing. *And content marketing is not just doing great content on your website one time…

There are many ways to market a website, and the most successful websites employ as many of these ways as they can to achieve the best results. Marketing costs can be one-time, such as for a product launch or another big event, but generally, they are an ongoing calculated, pre-determined monthly investment.
The essential website marketing tools and tactics include…
Content Marketing – $2k to $10k per month
Website Content – $500 to $2000 per page
PPC (Pay-Per-Click) Advertising – $3k to $30k+ per month
SEO (Search Optimization) – $2k to $20k per month
Social Media Marketing – $300 to $3k per month
Email Marketing – $3k to $20k per drip campaign
… and more. There's always more to do!
Note that many of these techniques work well in combination, when strategically applied, such as incorporating SEO techniques into your web copy and marketing content. By optimizing your campaigns to incorporate multiple website marketing techniques, you can make more efficient use of your marketing budget.
---
In Summary
We hope you know that "how much should a website cost?" is a loaded question. Much like asking, "how much does real estate cost?"…
The investment you make in your business should be carefully considered, and your website is arguably one of the most important assets you will own. Don't overpay for your website, or fall victim to the discount website offers you see everywhere online for DIY website solutions, thinking it will be a custom or strategic asset for your business.

Ultimately, your website is the face of your business that you show to the world. It is your first contact with most new prospective customers and your link to your existing ones.
Keep in mind, that today's consumer is incredibly web-savvy, and what you should invest in your website is often determined by the market and your competitors, not any website design agency. If you're not keeping pace with the habits, needs, interests, and desires of your audience you will lose them.
It will, therefore, serve you well to invest exactly what it will take to do it right. Nothing more, nothing less.