Last Updated on April 25, 2020 by James Castro
Let's talk about SEO and PPC ads—more specifically, let's talk about SEO vs PPC.
Successful SEO involves following lots of rules that are ever-changing with a healthy dose of creativity. Oh, and there can be a little bit of frustration that comes along with it, too. However, it does get results when done properly.
As for PPC, it involves planning, testing, and analytics, among other things. It too can be the source of a headache if not executed properly. It can also be the source of valuable traffic and customers.
This blog will discuss the following in regards to SEO and PPC:
What SEO is and how it works
What PPC is and it works
The costs associated with each
Performance comparisons of SEO vs PPC
The ease-of-use with SEO and PPC
Return On Investment (ROI)
The time it takes to see results using each
Miscellaneous benefits of SEO vs PPC
Let's jump right in.

SEO and PPC: An Overview
There are so many methods and strategies when it comes to marketing your website and getting visitors to it. It can be hard to keep track of them all.
You can simply hand out business cards with your company name, phone number, and website address. Heck, you could also hire one of those guys on the side of the road to hold a sign with your website address on it. That might be kind of cool.
However, handing out a bunch of business cards or hiring a guy to stand on the side of the road may not be as effective as using search engine optimization and pay-per-click advertising.
That's because SEO and PPC are the biggest marketing methods in the digital marketing space. And we're about to take a closer look.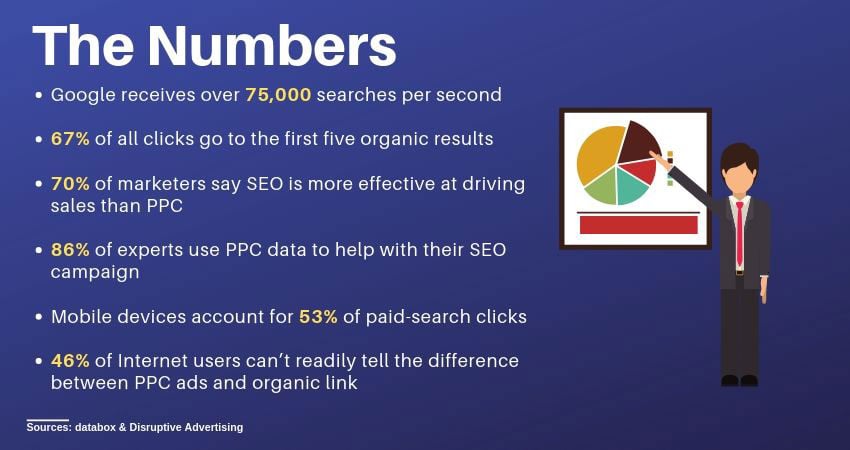 What is SEO?
SEO stands for "search engine optimization."
Search engine optimization involves "optimizing" a website, web page, or blog post to get a better position in the search engines—search listings, also known as the Search Engine Results Pages (SERPs).
Think about it. If one web page appears on page 1 in a Google search, and another website appears on page 20 of a Google search, which site do you think will get more traffic?
The answer is pretty obvious. And all of that traffic can mean more potential business.
Yes, I'm getting really basic here, I know. But, this is just a high-level glimpse at SEO.
How Does SEO Work?
This is a good question. It's a question that can vary depending on when it was asked. Why?
Well, search engines, like Google, use algorithms. These algorithms are complex and constantly being updated and changed to "better" search results—to give results that answer search queries best.
For example, if a Google-user searches the phrase, "best womens running shoes," Google will know the user intends to find information on the best women's running shoes. In this case, Google might show several reviews in the SERPs.
In the results below, you see lists that review women's running shoes. Most of the reviews contain the exact keyword phrase.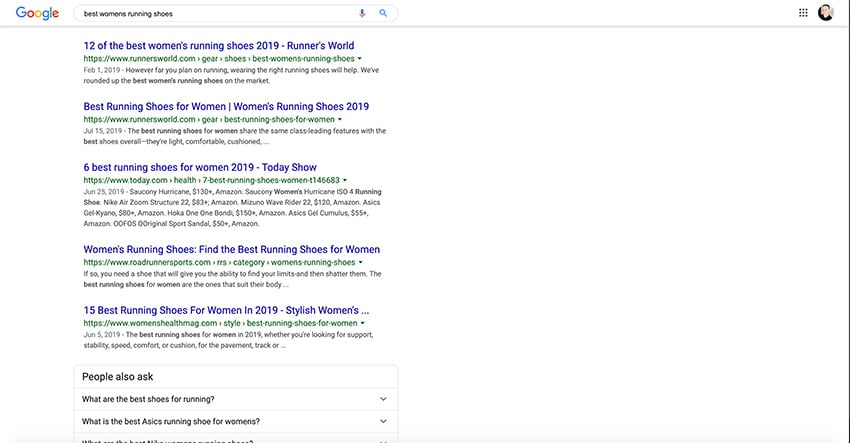 This isn't always the case though.
Old SEO
One of the biggest headaches of digital marketing today is that by the time digital marketers think that they've caught up with the latest trends, everything seems to change.
Google has always been consistent… with changing.
Just how many changes, updates and hours of work have they put into their search engine algorithm over the years? Who knows?
And on the flip side, just how many changes, updates and hours of work have SEOs put into their work because of Google's algorithm changes? They've put in an endless amount!
The Google search game used to be quite a bit different than it is today.
Years ago, you could optimize a web page, riddle it with keywords (aka "keyword stuffing") and keyword phrases, buy a bunch of backlinks from shady sites all around the web, and watch your website surge in the SERPs.
Yep. It's true. However, it doesn't work like that anymore.

New SEO
Today though, Google search works a lot different. Google is literally, "smart."
That's because Google uses something called, "Rankbrain."
Rankbrain is a technology that uses artificial intelligence (AI). It's a technology that learns how to make search results better for the end-user.
Google uses its AI technology to determine the intent and context of an end user's search query to deliver the best search results.
"RankBrain is a machine learning system that uses artificial intelligence to improve search results and interpret new queries," says SEO guru, Neil Patel.
Today, Google considers many factors when deciding what website, web page, or blog post is the best—who gets a better rank.
It considers things like bounce rate, "dwell time," schema, and even social signals according to a study conducted by Hootsuite. You can read more about it in our post about how to write a business blog.

What is PPC?
Pay-per-click (PPC), also known as "cost per click advertising," is advertising in which an advertiser pays a publisher, or is charged, only when the ad is clicked.
PPC works totally different than SEO does.
Although there are many PPC ad networks out there, Google Adwords is probably the most popular. So we'll use it for our example.
How Does PPC Work?
In short, with pay-per-click ads, an advertiser will select keywords and keyword phrases that they want to appear for in the Google search results or on the websites publishing Google Ads.
Then the advertiser will place bids on these keyword phrases—bidding on keywords and keyword phrases that they think match their ideal customer. It is critical to get this step right.
Selecting the wrong keywords and keyword phrases can mean wasted money on clicks that don't convert. Bad keyword selection can also get your ads low-quality scores. This can limit your ad's exposure.
And how much do bids cost an advertiser? Well, it depends.
An advertiser could spend below a dollar per click on their PPC ads. However, with a keyword like "insurance," an advertiser is going to pay quite a bit more.
Wordstream has the keyword, "insurance," rated as the most expensive cost per click term in the market. And for good reason, because according to their research, "insurance" comes in at $54.91 per click.
Below is a picture that shows you something you've probably already seen multiple times, Google advertisements in the search results.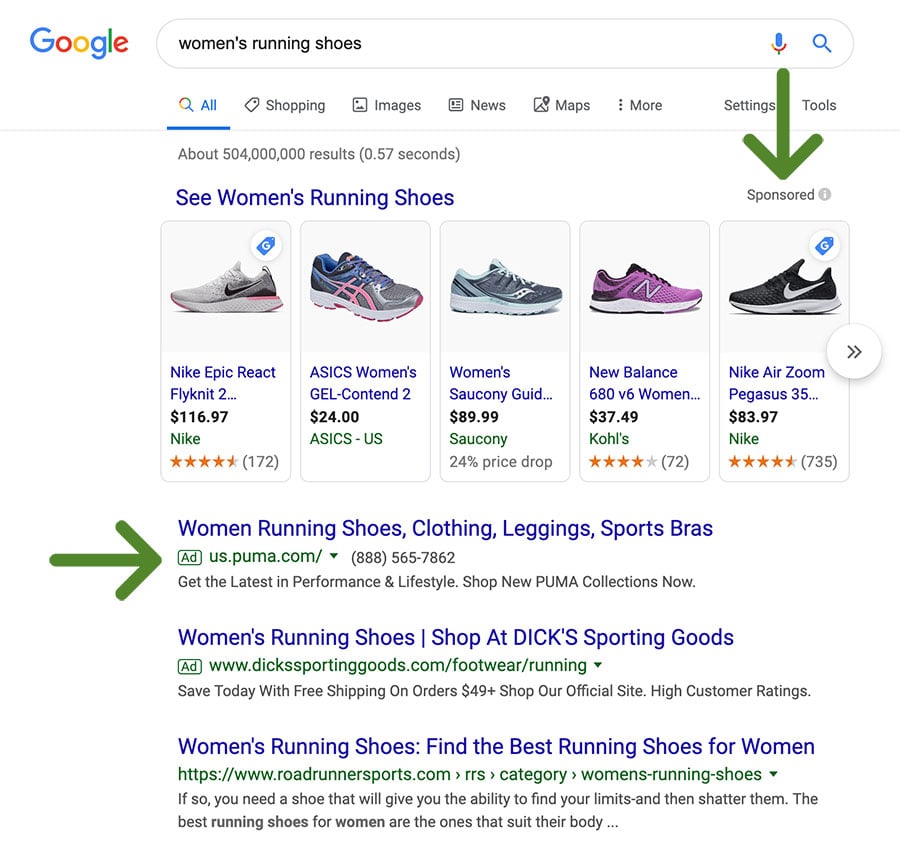 As you can see and have probably already seen, there are regular Google listings that come about organically, and there are listings that show up in search as PPC ads.
There are also local suggestions that look like the below screenshot. Notice the local suggestion that is an ad and the local suggestion that appears organically.
SEO vs PPC: Which is Better?
In this section, we'll take a look at both search engine optimization (SEO) and pay-per-click (PPC) advertising and compare them against each other using several factors.
Cost:  SEO vs PPC
Spending money may or may not be a factor for SEO but is always a factor with PPC.
Although anyone can indeed set up and manage PPC campaigns on their own, or work their own SEO strategy, this is definitely not recommended if you aren't experienced with either SEO or PPC.
Plus, business owners would probably do best hiring a digital marketing agency rather than trying to manage PPC campaigns and SEO strategy. Because both of these things can be time-consuming.
Also, with SEO, you could end up wasting time and damaging your ranking overall in Google. And with PPC you could end up wasting your time and a boatload of money.
SEO
With SEO, if your company hired an SEO agency, your costs would depend on the type of business you owned. Because your type of business would determine your keyword market.
With smaller or less competitive keyword markets, you could earn a top-rank in the search results and maintain it with less time and less money. In SEO terms, this would mean less content, link-building, etc.
For example, if you had a real estate company in Jacksonville, Florida and you wanted to rank your company on the front page of Google for "jacksonville florida real estate," you are going to have a bit of competition.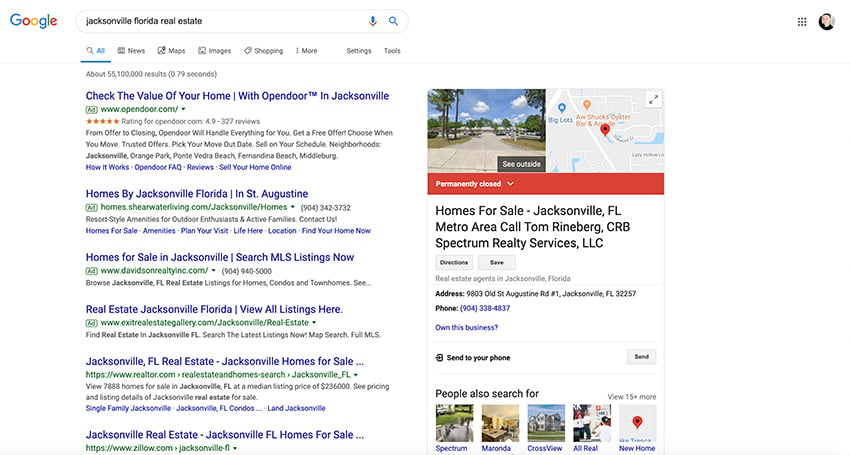 Because of this, the agency you hired would have to invest quite a bit of time into optimizing your website and properly executing a content marketing strategy especially. Getting results would take time.
And, the competition with keywords such as "credit cards" and "insurance" would be even worse.
But for pet shops in town that wanted to sell "Arowana fish," the competition would be pretty low. This would be an example of a niche and low-competition keyword market. Ranking in Google for this niche wouldn't be such a headache.
PPC
With PPC, your business type would again, determine the cost of your PPC campaigns.
Remember the cost per click for the word "insurance" that I mentioned above? So if your company was selling insurance nationally, you'd pay quite a pretty penny on your PPC ads.
Now, assuming your ads were set up correctly, you could see results and generate some business. But again, this would cost some money.
Unlike SEO, PPC will always cost you money.
With SEO, a piece of content that is optimized as it should be can gain a company free traffic organically. This, in turn, can mean sales without spending a dime down the road. Although, companies should always have an active SEO strategy in place.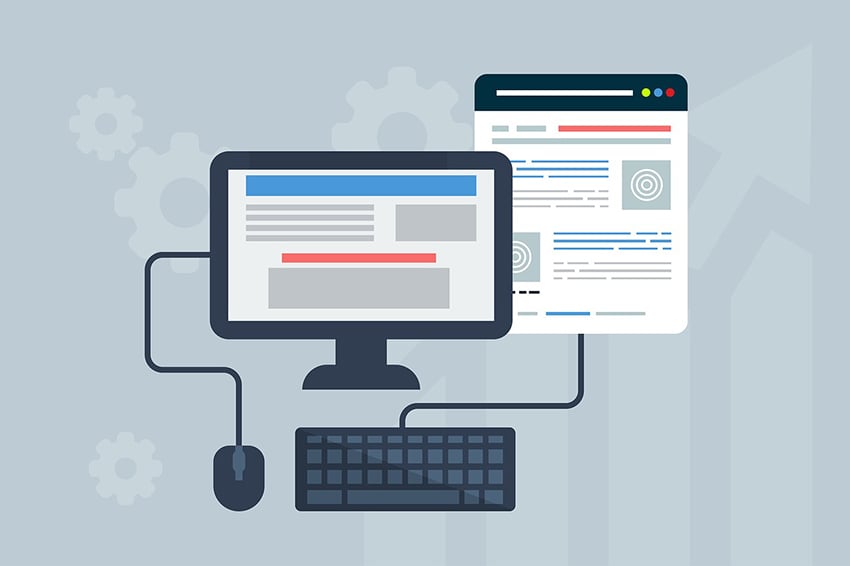 Which Performs Better: SEO vs PPC?
SEO
70 to 80% of all people who use search ignore paid ads and only click on organic search results, according to a study published on HigherVisibility.com.
In another study, conducted by DataBox, a survey of 58 marketers found that 70% of sales were generated from organic search. Wait, what? That's huge!
Those interviewed in their study said that many don't trust ads because they are simply trying to sell something. However, organic search results are where they are for the quality of their content.
"SEO has been crucial for our business. It drives free organic traffic to our website based on keywords that our target market is looking for, and by having them come to our website and consume our content, it builds trust in our brand," says Tom Shelton of Top Explainers.
Additionally, SEO will always outperform PPC when it comes to user intent. This is because search is better at determining user intent. Google, for example, is very good at determining what an end-user is in search of—what they need.
Here's why.
Did you know that 70% of all web searches are long-tail keyword searches? Long-tail searches are searches that are at least three to four words long. Like the search in the example below. These searches are often based on specific queries.
So in the example below, the search query doesn't just ask for "good dogs." The query is looking to find good family dogs, not good guard dogs, etc. It's a very specific search and because of that, it gives Google a much better idea of what the end-user is looking to find.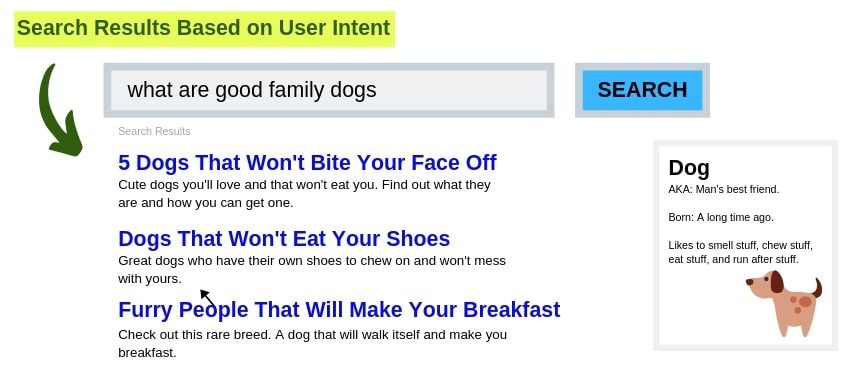 Also, do you remember Google's Rankbrain? Well, with every search, Rankbrain digitally analyzes a web page's performances. Google looks at what results get clicked and the user's behavior once they get to that page.
In search, SEO performs better long-term but PPC ads can have a company's website at the top of the search results immediately. And evergreen pieces of content can be depended on to generate new site visits and sales over and over, even years after first being published.
PPC
Pay-per-click ads can mean prominent placement in Google's search results almost instantly, as mentioned above. If you do any search, pretty much the top spots are always PPC ad results.
Another major plus for PPC is that it is instantly scalable based on budget and optimization. However, without an ideal landing page to correspond with your Google ad, you may not generate sales or leads.
Having said this, many pieces must align perfectly before launching a PPC campaign.
For example, if your PPC ad in Google reads, "Running and Dress Shoes for Sale," and a user searching for "dress shoes" clicks on this ad and only sees running shoes, this would be a bad user experience. Not only would it be a poor user experience, but it would be wasted money.
In short, the PPC ad text must align with the message of the landing page for success.
PPC is a fantastic tool for instant lead generation. As a matter of fact, according to a statistic from Disruptive Advertising, traffic that comes directly through pay-per-click ads bring roughly 50% more lead conversions than organic web traffic.
And with PPC, you can also closely monitor the cost per click or cost per lead; you can literally set up campaigns to get leads at a specific rate.
Also, with PPC, companies can run short-time sales, test pricing, test products, and not commit to a full SEO campaign.
Take note though, just as prominent positioning and traffic can be immediate with launching cost per click ads, it can all be gone once the ad is turned off.
With PPC ads, performance is greatly affected by ad campaigns and how they are set up. It's imperative that PPC ads be launched correctly for optimal results.
Ease-of-Use: Is SEO Better Than PPC?
SEO
If you are good at writing, you will probably have the skills to make SEO work. Of course, you will have to follow SEO best practices and adapt to changes when they occur. That's a task in and of itself.
But there are great resources out there that detail things like how to write a blog correctly, how to use headers, and how to incorporate other SEO best-practices correctly.
However, if you are not that great with writing, SEO probably won't be a good match. That's okay though because there are plenty of people out there who make their living writing content for others.
PPC
Not to say that a person can't be great at SEO and PPC, but, PPC ads are for people who are more into data and metrics. You know, those people who like numbers.
PPC only requires short-form writing. This is a major plus for those who are not into writing long-form blogs.
It's easy to get started with Google Ads, too.
Steps to Implementing Google Ads:
Open an account with Google Ads.
Create ads with targeted specific keywords.
Drive traffic to a specific page.
Get leads/sales.
Does SEO Yield a Better ROI Than PPC?
Both SEO and PPC can achieve great results—fantastic ROIs. But when it comes to where the rubber meets the road, let's take a closer look at SEO vs PPC.
SEO
In the long-run, SEO will probably deliver the most cost-effective solution for an organization. This is assuming that the person in charge of SEO is experienced, knowledgeable, and keeping up with the latest SEO trends. That means keeping an eye on Google updates and adjusting as needed.
With a skilled SEO, over time, organic traffic can be relied on for bringing in traffic. This can mean business.
PPC
With PPC, again, how talented is the person flipping the switches? How good are they at finding the right keywords and keyword phrases, and writing awesome ad copy?
And it doesn't just stop there. Assume that someone designs the perfect Google ad campaign, think back to earlier. Does the message of the ad match the landing page?
Just like with SEO, many moving parts can impact success and ROI.
SEO vs PPC: Time Needed to See Results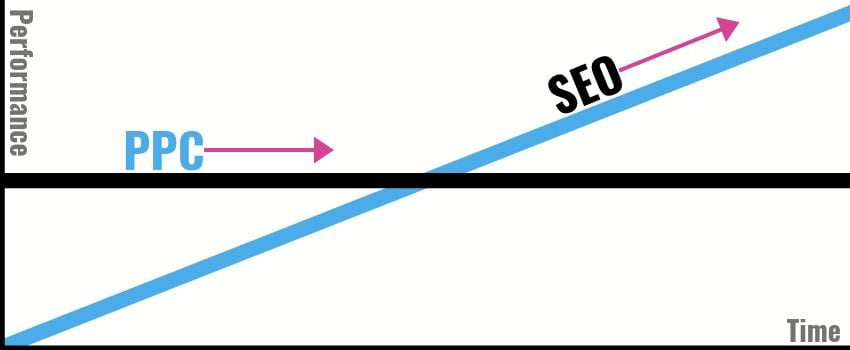 SEO
Search engine optimization is a long-term strategy. It's something that usually requires patience on the front end.
On the backend, though, a successful SEO plan can yield thousands of visitors to your website organically and regularly. And oftentimes these visitors are looking specifically for your product or service.
In other words, one well-written and optimized blog post targeted towards a company's ideal customer can bring in countless customers without having to spend money. Yet, it takes time, sometimes a year or two.
PPC
One of the major benefits of pay-per-click advertising is that, again, as a business, you can get immediate visibility. A company can create their ads, turn them on, and wait for targeted traffic.
PPC is also a fantastic tool for instant lead generation
But repeatedly, it is absolutely critical to plan a well thought out, and well-designed pay-per-click campaign. To design an ad campaign that drives web traffic and brings in customers who match your business offerings.
PPC is not magic. You could waste hours of time and thousands of dollars if a PPC campaign is not set up properly.
It's always suggested to work with a company that is experienced in pay-per-click advertising. And if you are using Google, choosing an agency that is Google Adwords Certified can really give your campaign the boost it needs and save you potential frustration.
Miscellaneous Benefits
SEO
Having your site or blog discovered organically in search has its benefits.
For one, it doesn't cost anything and as the data shows, pages found organically are trusted more and generate more sales. Having said this, hiring an SEO or SEO company does cost money on the front end, but on the backend, it's much cheaper than PPC.
If executed properly, an SEO plan is one that will gain you visibility and sales without having to spend thousands of dollars on paid media ads.
When spending money on SEO, an investment is being made long-term. However, every penny spent with PPC ads is gone in a click.
PPC
Although the data shows that PPC ads don't convert end-users to customers as well as SEO, PPC ads can get a business' website top placement in search very fast. Just do a search, who do you see in the top placements of the search results?
PPC can be used to keep the doors open, bring in new business, generate sales (offline, too), and help a company grow. And, cost per click advertising offers companies great analytics on the back end.
Also, PPC gives companies brand exposure—helps get their name, products, and services in front of potential buyers. These are all good things, of course.
SEO vs PPC: Which do You Choose?
When all is said and done, who wins the SEO vs PPC matchup?
Well, we recommend using both SEO and PPC. Because they both are valuable to building an organization's visibility and brand on the web.
Cost-per-click advertising is once again, a great way to get business coming in to generate sales quickly. And according to Disruptive Marketing, mobile devices account for 53% of all paid search clicks. This an important stat to keep in mind as more and more users are purchasing on their mobile devices.
As an organization's PPC campaigns are at work, they should also be implementing a long-term SEO strategy.
This should be one that includes a strong emphasis on content marketing, optimized blogs, and link-building.
Because in the long-run, SEO strategies that are implemented correctly should lead to a reduction in the amount of money needed for PPC ads.
That's because with SEO, things like highly optimized, targeted-specific blogs can bring in lots of traffic that convert.
If your organization has a new website or an older website, it's important to know the SEO health of your site. SEO audits are very common and helpful to determine where your SEO is strong, and where it's weak.
Simple mistakes could be detrimental to your rankings in search. So we suggest that every organization keep watch of where their website stands. We suggest using an SEO audit tool to check your website.
Use our free SEO Audit Tool and get critical information about your website delivered to your email quickly and painlessly.