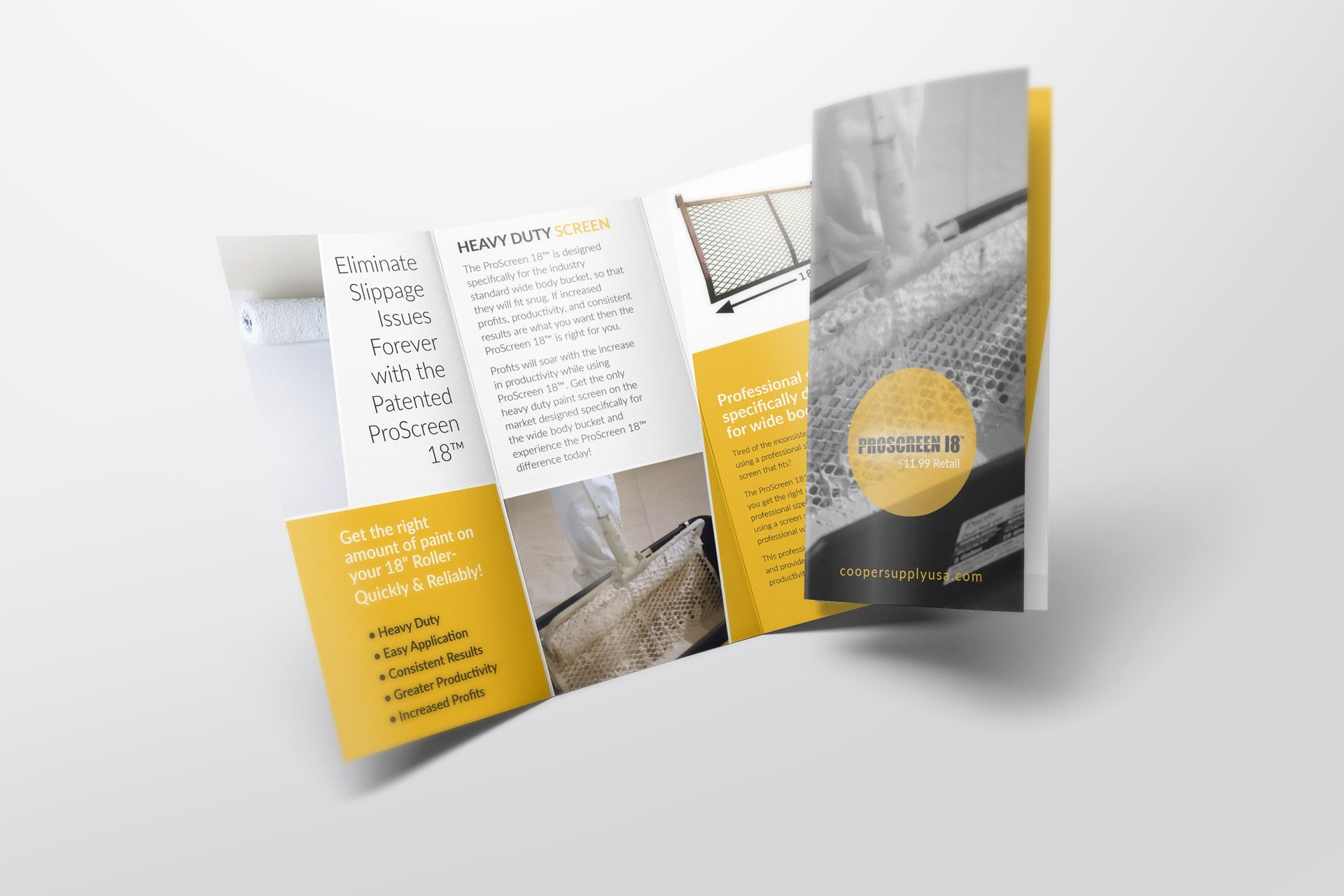 Product Branding
Inventor and founder of Cooper Supply USA, Greg Cooper, came to us with an ingenious new product- The ProScreen 18. With over 40 years as a paint contractor, Greg was tired of the slippage issues he experienced when using wide body, 18″ paint buckets with small pro paint screens. Since he could not find an adequate solution to this problem, he designed one. See how we created a product brand for Greg's new, and much needed invention.
Problem
Starting From Scratch
Greg's invention is currently the only heavy duty paint screen on the market designed specifically for the wide body bucket. This new product filled a very specific need for a very specific industry: professional painters– and the branding needed to be no-nonsense and industrial, yet eye-catching.
Challenge:
Create a new brand for a new product.
Strategy & Solution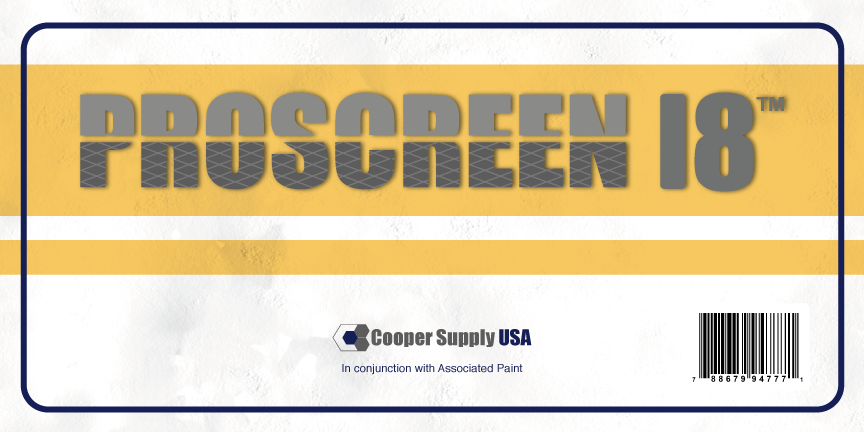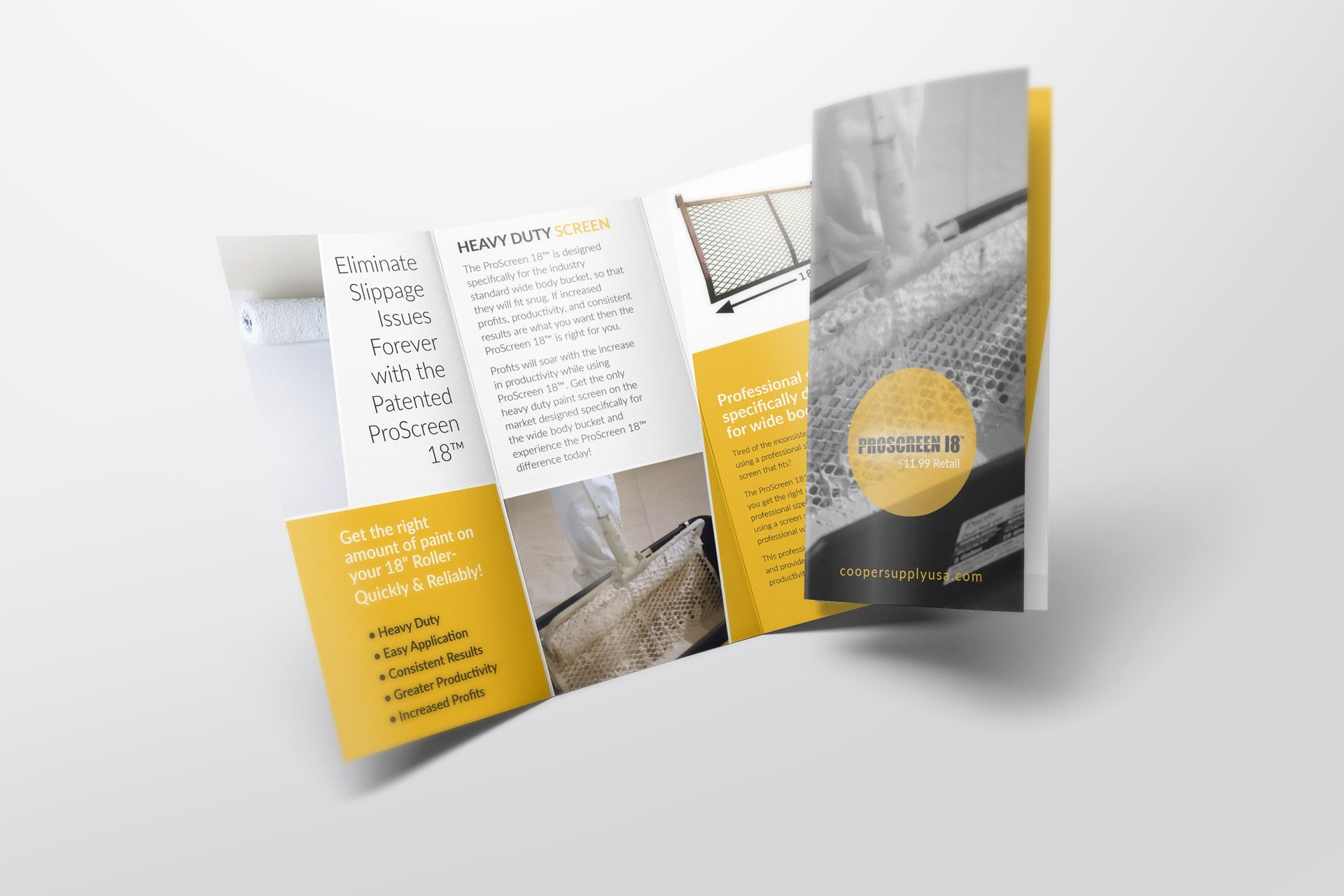 New Product Branding
The ProScreen 18 product has been patented and met with much excitement on the pro-painting circuit as there really is no other product out there like it and it fills a very specific, but much needed hole in the industry.
We went with a bright yellow and industrial gray for the color palette. Gray is a timeless and practical color and in contrast, the bright and radiant yellow adds the spark of creativity- and has almost come to be expected when dealing with industrial and construction designs.
The informational pamphlet also carries over the theme of industrial simplicity, with it's clean lines and industrial tone. It was important to ensure that the brochure was concise and to the point, and highlighted the benefits of this new and affordable product.
I strive for two things in design: simplicity and clarity. Great design is born of those two things.

– Lindon Leader
Think Product Branding is a Challenge? Fill out the form below for your first step torward a solution.