Design for Print Products
Fleming Island Plastic Surgery is a plastic surgery center that serves Fleming Island, Orange Park, and Jacksonville clients using state-of-the-art technology and a caring approach. They were in need of brand new business cards and an informational practice brochure that exuded the same professional and elegant look and feel as their office and their work. Check out our process below.
Challenges
A Fresh Take on an Established Brand
Fleming Island Plastic Surgery had already been around for a while, with an established brand, logo, and color palette. We had to be able to work with the established brand but give it a facelift- so to speak. Obviously, as a plastic surgery center, aesthetics are of the utmost importance. Their goal was to exude sophistication and subtle glamour, but also instill trust as a safe medical facility.
Challenge:
Give their print materials a facelift.
Strategy & Solution
Brand Identity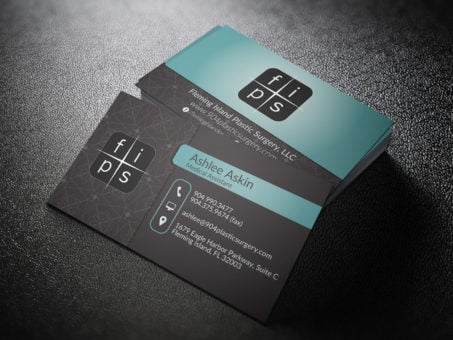 Medical Sophistication
Most medical design that has saturated the market tends to be sterile and clean- which serves a purpose in instilling trust, however, with a plastic surgery center, they wanted that touch of beauty and glamour that their office provides. The soft black with bright white contrast is the paradigm of luxury. We then tied that in with accents of their brand teal, which is the color of sophistication and serenity.
The overall look and feel of this design is luxury and modern elegance- which fits their ideal brand aesthetic perfectly.
Good design encourages the viewer to want to learn more.

– Alexander Isley
Think a Fresh Look is a Challenge? Fill out the form below for your first step torward a solution.