Optimizing for voice search is an opportunity to get to the coveted '0' ranking on Google. When your ranking gets chosen for a voice search answer that means it will be read to the people who ask the question, and it will be the only answer read for that question.
Sometimes a voice search can bring about a few different articles from Google, but this is only when it cannot find a search result that it is confident is the best answer.
Clearly this is something any business would want to be able to do, and that's why I'm going to teach you. If you haven't already read the previous blog on understanding how voice search is changing SEO that is probably a good place to start. However, if you don't want to do that, here's the brass tacks of what you need from it so you can continue along:
Foundational SEO Factors Needed Before Optimizing for Voice Search
If these first four things aren't done then it is time to do make sure these are done well before moving forward:
If you haven't done any of these things then now is the time to act. If you need more detail check out the previous post.
Otherwise, let's jump into how to optimize for voice search!
Step 1: Find your Top Ranking Keywords that Have Question Opportunities
You're only going to have certain keywords you'll realistically be able to show up for as the '0' search result for voice search. (It's called '0' because it is before the standard 1-10 rankings)
Compile a list of all of your rankings that are #1 to #3 rankings. You are going to use those to generate your list of targets for voice search. Choose the 3-5 keywords you think are best suited for Google voice. If you're unsure you can use 5-10 and use the next step to pair it down.
According to Backlinko 75% of the results used for voice search are in the top 3 for rankings for that keyword, so your chances are slim if you're not already doing well in search results. Focus your effort on the biggest chances.
If you don't have 3-5 keywords in the #1-3 spots you can potentially use keywords in the top 10, but know that your chances aren't very good to get featured and decide whether it is worth your time accordingly. It is generally not worth doing for keywords outside of the top 10.
Step 2: Find the Best Questions to Target
Go to Answer the Public and put in your search term and it will spit out a bunch of questions using the common question words (hat tip to Neil Patel for this tool) :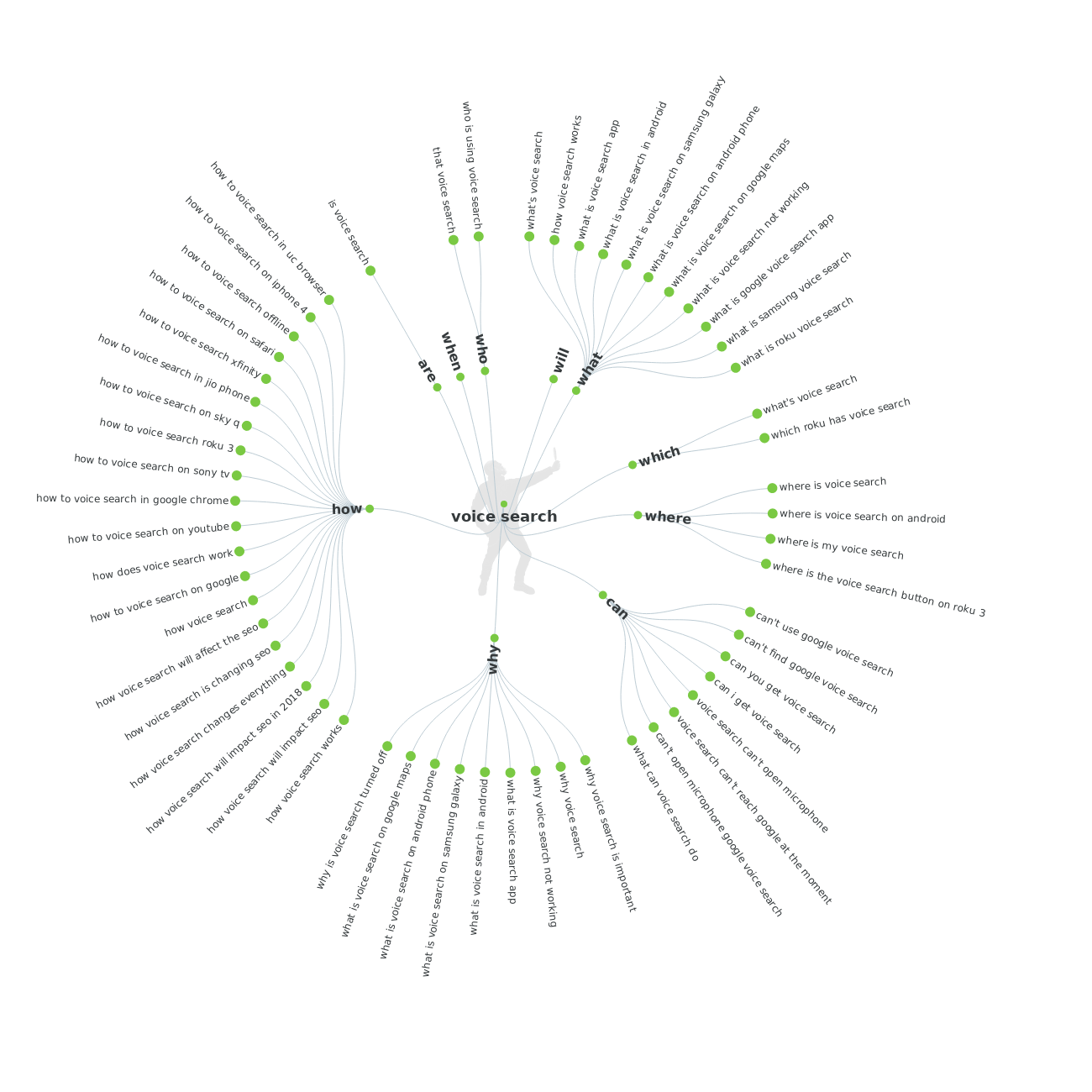 Take a look at the questions generated by Answer the Public and pick out:
Any questions you know you have already answered in previous content
Any questions you think are particularly useful to your potential clients and you haven't written about
Step 3: Research Your Questions: What's Already out There?
Know your competition. Perform voice searches for all the questions you are considering optimizing for and take note of whether or not there is already a voice search answer (where the answer is read to you) or if it is a selection of articles. If it is a selection of articles that means that either Google did not find something relevant enough or that it has no plans to feature something for that question. We have no way of determining this, but it is always a possibility Google will never feature a single answer for certain questions, so be careful about spending too much time on any one question.
If there is already a question then you just have to figure out how to answer the question better than the current answer. These are a collection of points about voice search results to help guide you in how you can make a better answer (featured in last article as well):
Answer the question as directly and thoroughly as possible
Make sure when you answer the question it is clear that your statement is an answer to the question (usually briefly restating the question is appropriate)
Make sure your answer is on an authoritative page that has backlinks to it
Keep in mind most pages that rank in the '0' position for voice search are snippets from 2300 word articles

DO NOT make thin pages of content only with a few questions and expect to rank

Use headers (h2, h3) to specify questions when possible
Ordered and unordered lists after a targeted header can be great
Use schema markup when appropriate (hours, phone number, address, other business information, also potentially for things like recipes, authors, or other characteristics)
Focus on the things central to your business that would be particularly helpful for you to show up for, as in Brian Dean's study at Backlinko he didn't find schema markup to be overly helpful, but my own thought is this is going to vary substantially by subject matter
If you have steps that you are listing make sure to list them clearly 'Step 1', 'Step 2', etc.
Say the most with the least: 29 words is the average response, but needs to answer the question as completely as possible
When you review the present results make sure to take note of any potential weaknesses the present results have relative to these bullet points, as if you are going to beat them your job is to make a result that is the better than their present answer. Keep in mind the two most important points are for you to answer the question better and the authority of your page.
Ideally you want to make the best answer possible so it is particularly hard for your competition to replace.
Step 4: Check for Featured Snippets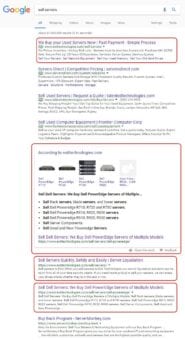 ASIDE: What to Aim For: Total Search Domination by Exit Technologies (our client)
As you can see here, Exit has the #1 ad, the featured snippet, and the first two search results. This is a great way to establish yourself as an authority and get someone familiar with your brand quickly. Click the image to see full size.
After you've done voice search for all your keywords do a regular search to see what shows up in featured snippets. Generally these will be used for voice search answers, but voice search is young and you might learn something unexpected that helps you take advantage of an opportunity you might have otherwise overlooked. Make sure to take note if the snippets are ever different than what is used for voice search answers.
SEO is all about testing and experimenting. Google will never tell you what works, you have to find it for yourself (or from someone else who has already done it).
Step 5: Time to Design Your Voice Search Results
ASIDE: Guess What was Used for Voice Search Results on Desktop
There's a lot of options here. We have:
One featured snippet (right)with the description from Wikipedia and various images from other assorted sources
Another featured snippet that redirects you to results for 'Google Voice Search'
Wikipedia in the number one spot
A collection of other related questions people ask in accordion form collected from different sites
Google support coming up in the #2 spot with voice searches and actions (action oriented as mentioned in our previous article)
A video carousel of related videos
Where do you think the voice search results came from?
In this case it came from the featured snippet from Wikipedia and/or the first search result. However, all that was read was:
"Here's a summary from Wikipedia: Google voice search is a Google product that allows users to use Google search by speaking on a mobile phone or computer."
As you can see, it didn't take what was written verbatim from Wikipedia. It both added context to tell you the result was from Wikipedia and it omitted 'or Search by Voice'. This is why testing voice search is important to better understand what Google is doing. As you can see from this, it is smart enough to make certain edits on the fly to keep results more conversational. While Google can do this, it should be your goal to not force Google to make edits on the fly, as it will be probably be less likely to choose a site that is not as authoritative as Wikipedia if the results are not perfect.
However, this is speculation on my part, so if you have strong reason to believe otherwise there is no way to find out better than testing!
Look for Areas When Your Present Content Already Answers the Question
If you have already answered questions in other content, it is time to go to that content and make it more clear for Google. These are the easiest to change, so start with these.
Find where you answer the question
See if there is a good way to put in a header (h2, h3, h4) with the question
You can also put it in a separate content box if that makes more sense
Make sure your answer is clearly an answer (probably restates the question) and is around 30 words. Sometimes Google does longer answers, but not very often
Spend some time making sure you give the most meaningful information with the least amount of words
Make sure not to adversely impact the quality or flow of your content
Just because there is an opportunity there does not mean you absolutely need to do it for everything. In fact, you probably shouldn't do it for everything. Use your best judgment and keep in mind that if you feel like you are compromising your present content in order to fit in a potential search snippet that either you need to put more thought into how you do it or you shouldn't do it at all.
It's not worth messing up your good rankings for the potential of getting a voice search result or featured snippet. Make sure that you are improving your posts and not compromising them.
Step 6: When it's Time to Write New Content
This is another area where some judgment is involved. You'll want to make sure that there is a topic that you haven't covered in depth enough that is worth writing about 2,000 words about. Keep in mind that this is already going to be closely related to one of your previous pages or posts that is ranking (if you're following the steps), so you want to make sure this post is complementing that post and not stealing from it or targeting the same keywords.
If you have enough questions that you think are useful you can simply write a new FAQ post, however this might not cut it. Otherwise you can write a blog that features questions (like the last article).
Remember that just like any other content marketing this needs to be a post that is full of value for your readers that you insert these questions and answers into, not a post you write just to be able to put these questions into. If your post isn't good enough for anyone to care about backlinking to it then it will probably never rank anyway, so there's no point in writing it in the first place.
Step 7: Choose an Appropriate Time Frame to Monitor Your Results
Sometimes Google might notice your changes very quickly, sometimes it won't. For many locally oriented businesses with lower traffic it may take awhile. If you make a number of changes to your site you can ask Google to fetch your website and this can help the process speed up.
If you have a site that gets 5,000+ site sessions per month then I would take a look after one week to monitor progress and make sure not to change anything for at least two weeks.
If you are a smaller business that gets less than 5,000 visits per month I recommend checking after 2 weeks, and if nothing has changed check again after 4 weeks. By then Google should have revisited and rescanned your site, even if it was on the slow side. Hopefully by then you've made it to that '0' spot in some of your rankings!
If you optimized 3-5 different keywords this will give you an opportunity to learn from any spots that didn't obtain the '0' spot as well as those that did and adjust accordingly.
Make sure to put your best effort forwards when making these changes, as that way you can feel comfortable leaving the changes to make sure Google notices. You don't want to be changing your results every few days to see if you can get to the top, as you might have had the best one before and Google just never saw it.
Keep Time Frame and Priorities in Mind: SEO is a Long Term Game
Remember that SEO is a long-term game and that it is important to prioritize your time according to what can benefit your company the most. Make sure that you think you have a fairly good chance of getting that number '0' ranking before investing time into it. These rankings can be very beneficial, but if you don't have any good candidates your time will be better spent on building out your SEO to get those top rankings first.